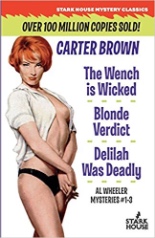 During the 1950s and '60s, you couldn't walk past a spin rack or bookstore without seeing several paperbacks bearing the name Carter Brown. In the early days of the paperback original, Brown was one of the most popular and prolific pulp fiction novelists. Now a new generation of readers can experience the first three mysteries in Brown's Al Wheeler series, thanks to Stark House Press's Mystery Classics.
In THE WENCH IS WICKED, a noted Hollywood writer is found shot to death in the bottom of a gravel pit. Homicide Lieutenant Wheeler, of the mythical town of Pine City (not far from Los Angeles) is assigned to the case and interviews the cast and crew of a low-budget western using the dead writer's script. It doesn't take long for Wheeler to discover that more than one person wanted the writer dead. But then the policeman who first discovered the body of the writer is also found dead in the same gravel pit.
In the opening of BLONDE VERDICT, a lawyer suddenly drops dead in a restaurant where Wheeler is having a dinner date. As Wheeler investigates he notes that the lawyer's wife seems mysteriously unconcerned about her husband's sudden death. And in DELILAH WAS DEADLY, the corpse of a social editor is found in the safe of a high fashion magazine. As more bodies are found, Wheeler discovers that someone is trying to steal the magazine's latest designs, and won't stop at murder to cover his tracks.
It's easy to see how Brown's prose style and off-kilter humor made him so popular. The stories are all told in Wheeler's first-person narration. Rather than the hard-boiled style of so many of Brown's contemporaries, Wheeler's voice is easy-going and colloquial, and always full of sarcastic, slightly dark humor. Take this opening exchange from the first of the three novels, as Wheeler counts down the minutes to his signing off for the day:
" 'Lieutenant!' The voice crackled with his emotion. 'I've just found a body."
'Well, go and lose it again,' I snarled. 'I don't want it.'"
The humor is also found in Brown's plot elements. The murder weapon at the beginning of the third novel, for example, is a girdle, used to strangle the victim to death.
Wheeler is almost never introspective. When alone and home for the night, he unwinds to the sound of his beloved Duke Ellington records, and perhaps a stiff drink, but his thoughts immediately drift back to the case and its various suspects. Wheeler's sole recurring personal fears are mostly how he's going to make up to the girl he is courting when he either stands her up or temporarily ignores her due to the demands of his case (or the temptations of one of the female suspects.)
But Brown was without question an author of his time and knew how to satisfy his mostly male readership. The women in the stories, mostly blondes, are always referred to as "honey" in conversation; are always well-endowed (like Mark Shepard's alluring illustration that wonderfully evokes the covers of the original publications); and always easily attracted to Wheeler's smart-aleck charms.
Chris Yates provides an introduction that traces the career of the British-born, Australian native Alan Geoffrey Yates, and how after a varied series of jobs he settled into a writing career, became Carter Brown, and the author of nearly 300 novels. Brown's seemingly impossible publishing deadline was self-imposed, as Yates points out, and often aided by his use of Dexedrine. Amazingly, however, his stories never seemed rushed or "cranked out." A bibliography of Brown's prodigious output is also included.
While undeniably popular (his Australian publisher boasts that at his peak in America alone Brown was selling 350,000 copies a book) Brown is seldom included with such revered names of crime fiction's formative years as Chandler, Hammett, or even Spillane. Yet, as Yates notes, Brown's style is deeply rooted in the genre's pulp fiction foundations.
All fans of crime fiction should take this opportunity to rediscover Brown and Al Wheeler, and experience what kind of stories kept readers happily turning pages when paperback originals first ruled the market. —Alan Cranis