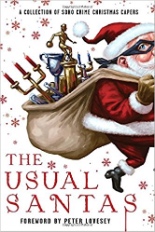 Christmas comes early this year, thanks to Soho Crime and THE USUAL SANTAS, a collection of Christmas-themed short stories by many of Soho's celebrated authors.
The stories are grouped into three main sections. The first, "Joy To The World: Various Acts of Kindness At Christmas," includes "Chalee's Nativity" by Timothy Hallinan. Chalee, a homeless Bangkok street child (first introduced in Hillinan's novel, FOR THE DEAD), spends her evening drawing figures she sees in a holiday store window. But Chalee's friend, Apple, is soon bored and takes off into the crowded Bangkok streets. In the title story, by Mick Herron, eight Santas traditionally hired by a huge mega-mall outside of London suddenly discover a ninth Santa in their midst. How they unveil the imposter adds to the hilarity of the story.
Things take an unmistakably gloomier turn in the second section, "Silent Night: The Darkest of Holiday Noir." In "Queen of The Hill," by renowned novelist Stuart Neville, Campbell Hunter, or Cam the Hun as he's known on the streets, sets off for a Christmas party at the Northern Ireland house of a notorious but irresistible drug dealer. But the Queen of The Hill has some surprises in store for Cam. In "Blue Memories Start Calling," by Tod Goldberg, the mutilated bodies of a family who disappeared several years earlier are found in a grave near a Granite City ski resort just before Christmas. The discovery and its aftermath cause the Granite City Sheriff to seriously reconsider his job and his life as well.
Historical and literary characters are featured in the third section, "I Saw Mommy Kissing Santa Clause: And Other Holiday Secrets." In "The Prince (Of Peace)," by Gary Corby, Niccolo Machiavelli saves an Italian city from Cesare Borgia, while pondering the meaning of Christmas. Irene Adler, Sherlock Holmes's former nemesis, is in over her head in Paris while on her way to an espionage assignment in Cara Black's "Cabaret Aux Assassins." And Jane Austin searches for a Dutchess's missing diamonds in "Jane and the Midnight Clear," by Stephanie Barron.
Each of the 18 total stories is preceded by a biography and photo of the author. The black-and-white graphic design of the author's pages and the story title pages, credited to Janine Agro, adds to the collection's holiday spirit. The foreword by Peter Lovesey, who also contributes a story to the third section, reminds us that crime is sadly a part of the holiday season, and thus why Christmas has inspired more short stories than any other theme.
THE USUAL SANTAS is the perfect stocking-stuffer for the crime or mystery fiction fan on your holiday gift list. But you might consider giving it to your intended recipient (or to yourself) a little earlier than Christmas Day to help get into the holiday mood.
Get a copy or two now before the shopping rush begins. 'Tis the season, you know. —Alan Cranis