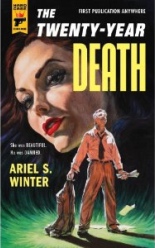 The latest from Hard Case Crime is also a debut novel with a twist. Make that three of them, as Ariel S. Winter's THE TWENTY-YEAR DEATH is a novel composed of three separate novels, set in a different decade and written in a different style of a classic noir author, yet maintaining an epic feel throughout.
Even at 700 pages, the hardcover never feels bloated or tiresome, since each of the novels are short enough to come off like old Gold Medal Books. Each also shares two characters with one another; someone who is just a small aspect of one can be a major player later on.
MALNIVEAU PRISON is the first. Even without its dedication page to G.S., many regular crime readers will feel as though the ghost of Georges Simenon is in charge. The story focuses on Chief Inspector Pelleter, who visits the titular prison to confront a child murderer he captured. It's soon discovered that what seemed like a senseless death of a homeless man is actually a prisoner who should have been safe behind bars.
This leads into a complex tale that goes back years. The dead man's daughter, Clothilde, lives in town with her American husband, struggling writer Shem Rosenkrantz. Clothide has hidden the truth about her father from her husband. Winter really captured the style of Simenon perfectly, especially in the character of Pelleter, who encapsulates the bleakness of Simenon's writing.
We then move into the world of Los Angeles and the style of Raymond Chandler in THE FALLING STAR. Private eye Dennis Foster is hired for a job where he knows he should just shut up and take the money: to "protect" a leading lady who thinks she is being stalked. The actress is Chloe Rose — the Clothilde from the previous story, now with a name change and a starring role in a big Hollywood production. Her hubby, Shem, is still around and has friends in all the wrong places.
Foster sees Chloe as just a paranoid women, but things take a grim turn with the discovery of a woman brutally cut up and with ties to Shem. The story is just as grim as its predecessor. Winter does an admirable job channeling Chandler, but for me, the style comes off more like early Ross Macdonald, who aped Chandler then. The idea of a Chandler motif works, but I've read better versions of his style; however, this will not dissuade you while reading.
In the final novel-within-the-novel, POLICE AT THE FUNERAL, Jim Thompson's style takes center stage. And what a stage that is set. This story is told from the perspective of Shem, whose wife is now hospitalized for mental issues — news that's no surprise since we witnessed her slow descent in FALLING STAR.
Shem is on the East Coast for a reading of his first wife's will. He's expecting a payday, but finds out all the money went to a son he barely knew. This starts a spiral that does not let up until Winter's final sentence. The author definitely has the Thompson style down pat, with a dash of David Goodis thrown in.
Each of these novels can be read on its own, despite minor references to one another. But what would be the point of that? THE TWENTY-YEAR DEATH is an epic undertaking — not just an interesting gimmick built upon a trio of pastiches, but a debut novel that's a crowning achievement. Now I'm curious to see what Winter will write next, but in his own style. —Bruce Grossman