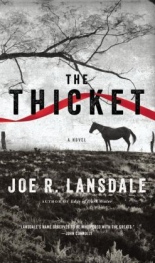 Joe R. Lansdale returns to the turn-of-the-century East Texas setting of EDGE OF DARK WATER, in his latest work and again focuses on a young protagonist coming of age in a changing and challenging world. THE THICKET, however, distinguishes itself from the earlier novel not only in its central narrative, but most notably in its major characters and unsparing portrayal of an often-romanticized era.
 
The lives of 16-year-old Jack Parker and his younger sister, Lula, are upended when their parents become the victims of a smallpox epidemic. We meet them as they travel with their grandfather on their way to the home of an aunt they've never known. But a heated encounter with a gang of outlaws on a ferry across the Sabine River results in the grandfather's murder.
Lula is kidnapped by the outlaws and young Jack is left alone and heartbroken. While seeking help in a nearby town, Jack meets Eustace, a gravedigging son of an ex-slave. Eustace introduces Jack to his friend and bounty hunter partner, Shorty, a charismatic, self-educated dwarf.
Together, the unlikely trio (or quartet, counting Eustace's huge pet hog called, appropriately enough, Hog) sets out to find the trail of the outlaws and rescue Lula. Along the way, they learn more about the sadistic reputation of the men they seek, encounter several close calls of their own, and meet other individuals who join them in their search.
 
Lansdale is staunchly unsentimental about the time and setting of his story, right from the opening paragraphs of Jack's narration. The devastation of the smallpox virus is described in horrifying details. From there, we are subjected to an endless array of unpleasant weather, decrepit locations, foul smells and some of the worst, often unbearably violent human behavior imaginable.
 
Yet along with its verisimilitude, Lansdale sets this demythologized Old West against the simple religious faith Jack inherited from his grandfather. Whereas the others would vote to settle an argument with a bullet, Jack insists that those who cross him be taken alive and brought to justice. The harsh realities of his world eventually win, but not without a long, drawn-out battle as he discovers that becoming an adult often means severely readjusting his worldview.
 
Amazingly, and in the midst of all this harshness, what resonate most are the characters that populate the novel. Eustace and Shorty are an obviously odd pair, yet share a common background of prejudice. Shorty learned long ago the invaluable lessons of self-reliance and is surprising erudite in his speech and mannerism. Eustace takes pride in his mixed background, which he credits for his occasional skills in tracking. Jack, in the middle of all his personal upheavals, finds love in the most unsuspected of circumstances. Even Hog is given several distinctive personality traits.
 
Adding and enhancing all of this is the eventual approach of modernity and industrialization. Oil wells dot the landscape with increasing frequency and land once thought of questionable value suddenly becomes the source of unexpected fortune. As a newfangled and noisy horseless carriage rolls past, Shorty points and declares, "That is the future."
 
Lansdale has won numerous awards and hordes of adoring fans with his horror fiction, and his crime fiction — particularly his rollicking Hap and Leonard series — is among the most unique and enjoyable in the entire genre. Equally excellent, but sometimes less celebrated, are his slightly more mainstream novels that can be traced to such titles as THE BOTTOMS, and SUNSET AND SAWDUST. Yet since the publication of EDGE OF DARK WATER, these works have associated Lansdale with such literary luminaries as Mark Twain, William Faulkner and Flannery O'Conner.
 
Looks like the rest of the world is finally realizing what many of us have known for a long time: Lansdale is one of the finest American authors working today. He deserves to be read and cherished by everybody. —Alan Cranis