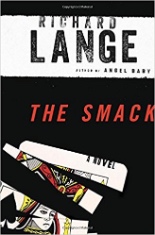 This latest crime novel by Richard Lange, the highly praised author of two previous novels and two short story collections, is a rare combination of realism and inventiveness. We find this in both the portrayals of the protagonists as well as the urban locations. It adds up to make THE SMACK Lange's most accomplished novel to date.
Rowan Petty has been a con man all his life. But when a streak of bad luck hits, Petty finds himself stuck in Reno, living in cheap hotels and working phone scams for a man he trained years ago. He tries to increase his meager earnings at the local casino poker tables. One afternoon, on his way back from a casino, Petty meets a sweet-talking prostitute who calls herself Tinafey ("Like that white lady on TV, but all one word.") and they become friends.
Not long afterwards Petty learns of millions of dollars of Army cash smuggled out of Afghanistan and kept in a Los Angeles apartment. It seems like the score of a lifetime, so Petty and Tinafey head out to L.A, to locate the cash. When he arrives in Southern California Petty tries to reconnect with his daughter, whom he deserted years ago when his marriage to the girl's mother dissolved.
But Petty's daughter is just one of several complications that keep Petty connecting with the smuggled cash. And the more time Petty spends in L.A. the more dangerous these complications become.
Lange's prose style is near conversational and varies from easy-going to intense. His ear for dialogue is spot-on and never over-played. Most of the scenes follow Petty, but the focus occasionally shifts to noticeably weaker episodes of the Army soldiers escorting the cash to Los Angeles.
In contrast to many stories about professional con men, our fascination with Petty stems from the surprising fact that, as experienced as he is, he still fails at many of his scams. This keeps his life in a constant state of flux, and adds a sense of realism to both his characterization and the central plot itself.
And in the midst of his search for the hidden cash, Petty finds that his relationship with his estranged daughter becomes increasingly important. So while trying to make sense of his connection to Tinafey — who keeps threatening to return to her home in Memphis – Petty suddenly finds himself trying to become a real father. This also plays against the stereotype of con men and again heightens the realism of the story.
Along the way Lange embellishes the story with accurate but often near poetic descriptions of the Southern California locales. Like this view of Hollywood Boulevard in the early morning:
"The Boulevard by day looked hangover, woozy. Its bruises showed through its powder and rouge. The sidewalks were empty, the trash cans overflowing. Steel roll-up doors decorated with ugly painting of the stars of black-and-white movies covered the storefronts, and a noisy flock of ravens that was perched on the art deco flourishes of an old building put Petty in mind of vultures waiting for a meal to drop."
Such evocative moments, along with the unexpected story of professional con man still trying to navigate his path through life, could make THE SMACK the break-through novel that brings a much deserved wider audience to Lange's small but impressive body of work. —Alan Cranis