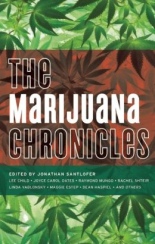 As prevalent and as it is, you might wonder why it took Akashic Books' notable Drug Chronicles series so long to get around to marijuana – following collections devoted to cocaine, speed and heroin. Whatever the reason, THE MARIJUANA CHRONICLES was worth the wait and is the strongest, most diverse and entertaining collection of the series to date.
 
Leading off are stories by two of its best-known contributors. Lee Child, author of the ever-popular and expanding Jack Reacher series, presents "My First Drug Trial," about a defense attorney fighting the urge to get high on the morning of, ironically enough, his first important court case for drug possession.
Renowned author Joyce Carol Oates, who makes frequent trips down the crime and mystery genre lanes, offers "High," an oddly touching tale of an aging former teacher who fills the emptiness of her life following the death of her husband with pot smoking and all of the strange rituals and encounters that come with it.
Going the extreme opposite directions are entries like "Jimmy O'Brien," by Linda Yablonsky, where the narrator recalls the time and joints she shared with a cross-dressing gun nut. Then there's "Zombie Hookers of Hudson," Maggie Estep's hilarious tale of a young woman who befriends a group of zombies — all former whores — until they go through her entire stash of weed.
 
With the ongoing debate on pot legalization still in the news and the term "medical marijuana" becoming part of the everyday lexicon, the collection also includes two nonfiction pieces on the topic. Most notable is Rachel Shteir's portrait of Julie Falco, a Midwestern advocate of medical marijuana on the eve of her relocation to the West Coast.
 
Further demonstrating the diversity of the collection is Dean Haspiel's graphic (as in comics) tale "Cannibal Sativa," an all-too-brief but very funny recollection of his pot-smoking experiences. There are even weed-oriented poems by Bob Holman and Jan Heller Levi.
 
After a roll call of the best-known nicknames for the drug, editor Jonathan Santlofer recounts its long history of use, popularity and prohibition, as well as its presence in literature, music and the movies throughout the decades.
 
Notable also is the change of format from previous series collections. Larger photos and slightly lengthier bios head off each entry, instead of the tiny photos and bios appearing at the very end.
 
Like its three predecessors, THE MARIJUANA CHRONICLES reserves judgment on the drug, allowing readers to either form or challenge their own opinion. Firsthand knowledge or experience is also not necessary to enjoy or be moved by the contents.
 
This latest collection comes highly (no pun intended) recommended, even for those who never inhaled. —Alan Cranis