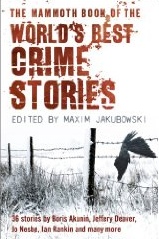 The title THE MAMMOTH BOOK OF THE WORLD'S BEST CRIME STORIES begs the question: Is this intended to be editor Maxim Jakubowski's declaring of the best crime stories in the world? Or rather, the best crime stories from around the world?
The answer, in its attempt to attract your attention, is the latter (and good luck to anyone bold enough to take on the former). Crime fiction, as most of us know it, is mostly from English-based countries. And while some renowned works reach us from overseas, we remain somewhat provincial in our knowledge of crime fiction from other parts of the world. But as Jakubowski reminds us in his Introduction, "Crime is, sadly, universal."
But many foreign authors remain unknown to us due to lack of both sufficient translations and more so because of unadventurous publishers. Jakubowski attempts to resolve the problem with this collection, but succeeds only partially. Most of the shortcomings are due to the format. There is a woeful absence of any biographical and bibliographical information on all of the authors included here.
You would think that an anthology whose purpose is to bring foreign writers to our attention would at least include a listing of their recommended works available in translation. Then, too, the lack of the country of origin appearing along with the title and author of each story is just plain irritating, causing you to constantly page back to the table of contents. (For example, what country would you think a story with a title like "A Really Shitty Day" comes from? Answer: Sweden.)
 
The stories from the English-speaking countries — and, let's face it, these are the ones that are likely to attract us to such a collection, and the ones we are just as likely to read first — feel mostly like a reunion of old friends. There's a Rumpole story from John Mortimore (Great Britain), a John Rebus tale from Scottish author Ian Rankin (but listed as coming from Great Britain), and from the U.S., a Lincoln Rhyme mystery from Jeffery Deaver and even a Mike Hammer entry by Mickey Spillane and Max Allan Collins.
It's left to Ruth Rendell (Great Britain) to provide the sole non-series story. These selections display all the characteristics we've come to know, love and, yes, expect from these authors and their series stars. Rendell alone demonstrates her variety in her atmospheric near-novella, "The Strawberry Tree."
The stories from the other countries are a grab bag of pleasant surprises and disappointments. Stories like "The Temp" by Rene Appel (Netherlands) and "Serum" by Jo Nesbo (Norway) prove the worldwide (and Jakubowski's) attraction to tales with an unexpected twist at the end. Others, like "Table Talk, 1882" by Boris Akunin (Russia) and "A Crime for A Crime" by Giorgio Faletti (Italy) display novelistic detailing that make us long for more and longer works by these writers. Several others, however, like the aforementioned "A Really Shitty Day" by Camillia Lackberg (Sweden) and "That Fat, Sadistic Bastard" by Jose Carlos Somoza (Spain) start off strong, but then fall flat by the conclusion, or are left dangling.
 
In all, this is a somewhat uneven introduction to what the world has to offer in crime fiction. And, again, a project such as this should provide readers with information about where to go next instead of leaving us with so many dead ends. Still, being a generous sampling of 36 stories coming in at just under 15 bucks (typical of the long-running MAMMOTH BOOK OF series) it's mildly recommended as a means to broaden your fiction horizons, especially if you're willing to take on any resulting research on your own. —Alan Cranis
Buy it at Amazon.
 
OTHER BOOKGASM REVIEWS OF THIS AUTHOR:
• PULP FICTION edited by Maxim Jakubowski
• ROME NOIR edited by Chiara Stangalino and Maxim Jakubowski