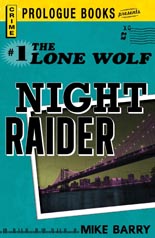 Over the years, when it came to men's adventure, there were always a few series that escaped me, the ones I would hear great things about and how different they were. But when I would come across a copy, the seller wanted way too much money for me to take a chance, or worse, the copy was severely beaten up and falling apart … and they still wanted too much!
But now, thanks to ebooks and, in particular here, the fine folks over at Prologue Crime, one series is getting a new appraisal: THE LONE WOLF. From 1973, the first book, NIGHT RAIDER, sets everything in motion. Mike Barry was actually the pen name of Barry Malzberg, better-known for his science-fiction work. It's been said he wrote the whole 14-book series in one go-round.
Burt Wulff is a former police officer in the narcotics division who also spent time in the Army, where he changed. And that change was not for the good in some people's eyes. Now Wulff is sick of the corruption of his department and the drugs that are ruining the city.
But this is only the match; the strike, so to speak, is the discovery of his girlfriend dead from an overdose. Was she set up by his former cop pals? Thats what Wulff thinks and he is on a mission to take down the drug lords. He systematically moves up the chain, taking each one out in a more constructive way as he progresses. It's clear that Wulff is not playing with a full deck anymore.
Malzberg uses his chapters rather cleverly, as we see the outcomes of actions first, while the following chapter reveals the build-up — a sort of mini-flashback is the best way to think of it. It took a little to get used to this structure, but it works perfectly for such a seriously damaged protagonist.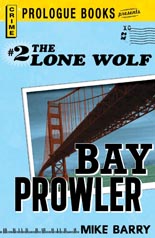 Picking up right after the events of NIGHT RAIDER is the second book, BAY PROWLER, in which we find Wulff on his crusade in San Francisco. The book drops the reader into the thick of it, with Wulff in a shooting gallery of sorts where he meets a young lady named Tamara.
She is under the belief that Wulff is some sort of Avenger, and he proves his "powers" when a man who runs things wants to know who Wulff is. Not to ruin anything, but Wulff and Tamara leave the house on their own feet, while someone else will be leaving in a pine box. And this is only the start!
Wulff is once again determined to track down the source and top men of the origanization. The local boss figures Wulff can be taken care of rather easily, yet nothing is going to stop our hero until he gets the information he wants, so he continues on this death trip.
This first sequel just adds to the debut's paranoia and extreme aspects of the genre to the nth degree. Unlike NIGHT RAIDER, the structure is straightforward. Once again, though, Wulff allows no one to escape the choices they make … well, except for one person whom Wulff sees as a sort of redeeming quality of his mission.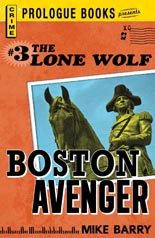 With book three, BOSTON AVENGER, we're off to Beantown with a valise filled with bricks of heroin. Before he even arrives, he is robbed of the goods at a toll booth. This sets up the two threads of this entry, which of course will connect much later.
A bigger shock to Wulff is the one man he came to confront has died. So what's a crazed vigilante to do in this situation, where someone must pay? I'm not telling, but his answer is like swatting a fly with a sledgehammer. Naturally, this brings Wulff to the attention of another local boss who is none too thrilled.
That valise ends up in the hands of a man named Sands, a low-level operator whose real job is not revealed until later and it's pretty funny. Wulff is determined to take down everyone, and it all comes to a head in a big way.
BOSTON AVENGER closes the first trilogy of the LONE WOLF series, which is truly one that needs to be devoured. It's so unlike other series of its genre. Sure, you can make comparisons to other one-man-army characters, but Malzberg clearly constructed one with a well-thought-out arc. From what I understand, things get darker and deeper across the 11 books that followed, so I can't wait to see how it all turns out. I'm guessing it won't end happy. —Bruce Grossman