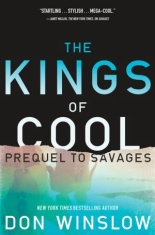 Why a prequel to SAVAGES? Is author Don Winslow taking advantage of the acclaim and popularity of his 2010 novel, especially now that it has been adapted into an Oliver Stone movie? Sure! The more important question, however, is this: Are the characters introduced in this novel the kind of people we want to know more about? Oh, yes; and that's why THE KINGS OF COOL stands easily and proudly on its own considerable merits.
The story covers two time periods. The first is 2005, when the protagonists from SAVAGES — Ben, Chon and O — establishes themselves as the growers and sellers of the finest hydroponic cannabis in Laguna Beach. The reputation of their quality weed is quickly spreading, making them successful — and wealthy.
But then, shortly after Chon is deployed to Afghanistan, Ben is approached by crooked local law enforcement officer who wants a taste of the trio's success. In other words, Ben must pay a hefty monthly protection fee or else the officer and his cohorts will bust them, big-time. Ben knows that if it were up to Chon, there would soon be some very serious bloodshed. Ben, being far more pragmatic and peace-loving, devises a scheme to catch the crooked cops in their own sticky, legal web.  
 
The second period is the late 1960s, when young surfer John McAlister meets a local, charismatic character everyone calls Doc, who spreads his word of love and brotherhood while handing out free tacos. Nearby are Stan and his wife, Diane, two hippies who long to turn their decrepit house into a really cool bookstore.
Doc eventually brings John, Stan and Diane under his wing and forms The Association, an odd grab bag of hippies and surfers who eventually form the largest and most lucrative local drug cartel in all of Southern California. Then Doc moves The Association into dealing harder drugs, including cocaine, and his alliances with organized crime make things increasingly tense — and increasingly threatening for all involved.
 
As both storylines progress, Ben pulls Chon, shipped back to the States with a wounded leg, into his scheme. Meanwhile, O divides her time between trying to seduce Chon and finding the identity of her biological father from among her distant and distracted mother's several suitors and husbands.
We already know that McAlister will eventually become Chon's father. After a while, as the history of The Association follows that of the actual notorious Brother of Eternal Love (chronicled in Nicholas Schou's excellent nonfiction book ORANGE SUNSHINE), we discover that Stan and Diane become Ben's parents.
 
Winslow plays this "sins of the fathers" theme quietly and subtly at first. Then, as KINGS OF COOL reaches the last quarter, the second-generation characters feel the inescapable weight of their folks and the destiny that was set long before any of them were born. This ironic, sad revelation — along with several related resolutions coming from the character's various actions — is the novel's most memorable and striking characteristic.
 
Winslow's prose style throughout is an absolute delight. His uncanny ear manages to perfectly capture all the hip nuances of the period's speech patterns, right down to short-attention-span sentences that change topics in the middle only to return and suddenly make their intended point. The pacing is somehow both frantic and smooth, enhanced with frequent references to popular song lyrics and movies as well.
 
Prequel though it may be, THE KINGS OF COOL is by no means a cheap shot, dashed off quickly with no other purpose than to capture the cash. Instead, it is another worthy addition to Winslow's growing body of excellent work.
 
If you somehow missed reading SAVAGES, you are forgiven … providing you place a paperback copy on top of THE KINGS OF COOL at the checkout counter. The initiated should keep their copy of SAVAGES close by. After you finish this new chapter, you'll want to immediately relive the "later" adventures of Ben, Chon and O again. —Alan Cranis