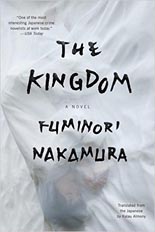 If you haven't started your first-edition collection (hardback and paperback) of the work of Fuminori Nakamura, perhaps you should start with his latest, THE KINGDOM, as translated by Kalau Almony. Nakamura's kind of an acquired taste. He writes with intensity and passion, but his work revels in the dark, dour and desperate. He will make you uncomfortable but also surprise you with some psychological thoughts and insights that will make you put the book down and think about actions and consequences.
In THE KINGDOM, we meet young Yurika who works for a powerful man named Yata. She poses as a prostitute to get close to other men, drugs them, then takes compromising photos of them that Yata then uses to manipulate the men.
Unfortunately, Yata uses her to take on an equally powerful rival. When she attempts her scam, she is discovered and threatened with death. But Yurika has a different plan.
I won't spoil any more of the story, especially because it's so short. Nakamura excels in writing brief, taut suspense and both this work and his exemplary THE GUN really should be on your reading list. Now is the time to start collecting his work before it gets all super-pricey. If you want a mystery author who's a little different from most, a little more challenging, and definitely not the same old thing, go buy all Nakamura's work. Highly recommended. —Mark Rose