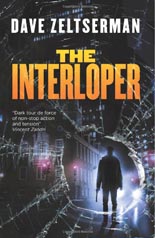 The latest from Dave Zeltserman, THE INTERLOPER, is actually three stories in one. In the sense they are three novellas that are connected with an over arcing story. With also the added bonus of a continued story. The premise is that of a man named Willis who for years has been working for The Factory. A shadowy government agency where he has worked as a paid assassin for years. Willis has for years believed he has been killing off insurgents that have been watched for years. He was to make the deaths more often then not to look like natural causes. That was till he found out exactly what deep secret The Factory has been hiding from him. This is the bulk of the first part of The Interloper called The Hunted. With the rest of this section being like a sort of mens adventure. With Willis exacting revenge and setting up the following stories.
The second part and third part more play like the Richard Stark Parker novels. With Willis teaming up with fellow criminals. So Willis can support his life now that he is persona non grata at The Factory with a giant bounty on his head. The second part is called The Dame. And like any good Parker novel that has come before this. Deals with a robbery and its messy outcome. Willis is hired first to help take down a poker game. That goes so well, that the man who put it togethers tempts Willis with another more lucrative score. That of stealing a piece of artwork from a man. But of course there are plenty of strings attached that Willis does not find out till later. I'll just say this if you have read any Westlake or Stark before. Its obvious that Zeltserman was a fan. Now The Dame might have a higher body count of those other novels. But the cold deadness of Willis is right on target with Parker.
The final section of this book is called The Interloper. Once again we find Willis in a bind since the last job did not go as smooth as possible. And Willis teams up with a group of long time friends for another heist so to speak. Now as easy the job goes there is a fly in the ointment. That of a fellow Factory worker who is town continuing with fighting the insurgency so to speak. This time it was the member of the crew that Willis is working with. Even worse it was the one member who was holding the money. Not to spoil things but things take a turn for the worse. Especially when said Factory worker finds out that Willis was part of the crew.
The Interloper is a blast of quick reading. Especially since they were essentially three quick novellas that do connect. Most readers will clamor for more adventures of Willis. Zeltserman more then leaves the door open so to speak for that to happen. With taking another page from the Stark handbook of crime writing. But finishing up like some of the other Parker novels. That of Willis on the hunt for not only another score but a new face. Lets hope that Zeltserman can be as prolific as the person he is emulating with this entry in his already great catalog of reading. —Bruce Grossman