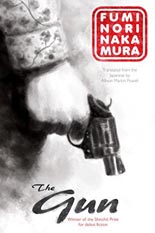 Fuminori Nakamura is one of the more interesting novelists out of Japan these days. He struck gold with his first novel, THE THIEF, and has been up and down since, occasionally falling prey to over-experimentation or strange plotting, occasionally hitting high notes with character motivation and overall themes. His fourth novel, THE GUN, is a short and feverish descent into madness and obsession.
Our troubled protagonist, Nishikawa, finds a dead man under a bridge, a revolver near the body. It may have been suicide but there is no note, it might have been a gang-style execution. Nishikawa cannot think, and he cannot think why, but for some reason, he covets the gun and takes it into his possession.
Thus begins his monomaniacal attachment to the gun, a love, a deep and fearful love. He loves it so much he coddles the gun, polishing it regularly, buying it fine fabric in which to nestle. He stares at the gun, he fondles the gun, he … well, now he wants to shoot the gun. Shoot it desperately. Nishikawa is lost.
The author does more in less than 200 pages than most authors could pull off in 600. In taut, short sentences which ache of pain and longing (in a translation by Allison Markin Powell) we feel with Nishikawa his intense desires and begin to slip along with him into the darker realm of insanity. Will he shoot the gun? How will he get away with it if he does?
Fuminori Nakamura's books are different. They are stripped down, focused, intense, and worth every second you spend reading them, even if one or two are a bit spotty. Recommended reading, and an author to look out for. —Mark Rose