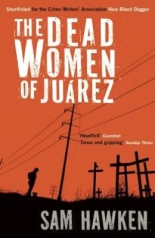 Ciudad, Juárez, is the setting for Sam Hawken's debut novel, THE DEAD WOMEN OF JUÁREZ. Now, this is a fictional story of a real-life situation in which close to 500 women have been found murdered. Despite those numbers, this is not considered a high priority by the local police, who are filled with corruption.
The story focuses on two characters, one of whom is a washed-up boxer named Kelly Courter. Kelly is the type who is trying to scrape by making a living, and by that, I mean taking a brutal beating in the ring for a few quick bucks. Then he goes out "shopping," and by that, I mean lifting pills. He also sells drugs to visiting Americans. As we see, Kelly is a lost cause who realizes his life has really hit bottom.
He tries to kick drugs, but just gets dragged right back into it rather quickly. This leads into him being accused of killing a woman named Paloma, who is sort of a girlfriend. In Kelly, Hawken has created a character of a man who tries hard to be a stand-up guy, but is thrown into a world of trouble at every turn. Kelly is taken to jail, where he endures the local police at full force.
We follow the second main character for the second half of the book: Rafael Sevilla, an honest cop who knows his boss is as corrupt as possible, but figures he might be able to convince Kelly to own up to the killing. It soon becomes apparent that Kelly might be telling the truth, that he might be innocent. This takes Sevilla deep into a world of wealthy families who believe they are far above the law. Sevilla vows to follow the case to its bitter end, no matter who is responsible.
Published by Serpent's Tail, THE DEAD WOMEN OF JUÁREZ is not a straightforward tale of good and evil, since everyone in the story is more shades of gray then just plain ol' black and white. Hawken does not settle for easy answers, so readers expecting things to be tied up neatly will be sorely disappointed. The novel deals with a problem that, sadly, is not going away anytime soon, but at least Hawken shines a very bright light on this injustice. —Bruce Grossman