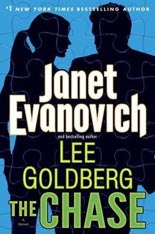 A follow-up to Janet Evanovich and Lee Goldberg's THE HEIST from last summer, the duo's THE CHASE picks right up with the exploits of internationally known thief Nicolas Fox and FBI Special Agent Kate O'Hara. For those who enjoyed the first entry, know that this continues with the fun, and actually is a more enjoyable ride with not just one con, but four, each more daring than before.
The reason for these little excursions centers around a former White House chief named Carter Grove, a man who makes Dick Cheney look like Mister Rogers. Grove is now in charge of a firm called Black Rhino, a private army for hire à la Blackwater.
The reason our twosome needs to tangle with a man who would probably kick a puppy while stealing candy from kids is that of a bronze rooster. As far as anyone knows, the rooster is sitting in the Smithsonian and on its way back to China, but is a total fake. This where Grove comes into the picture. He has the original under lock and key in his fortress of a house. Leave it to Fox to figure out how to retrieve the cock and not get caught.
Again, that is only the first of four daring capers pulled off in the book. Plenty more await, especially when Grove finds out he has been robbed. Someone is going to pay, and Grove will stop at nothing to get the rooster back and keep his other goodies a secret.
Evanovich and Goldberg seem to be having loads of fun with their creation. O'Hara is a whip-smart, take-no-prisoners woman whose eye is always on the chance that Fox might slip up, while Fox goes about these capers like he is having the best time ever. Like their first book, there are more than a few nods to old TV characters for aliases.
THE CHASE will delight readers who just want some breezy fun and action. The ending may be a bit over-the-top, but I'd rather have that in my reading than be hit over the head with trudging symbolism. I wonder how the authors will top these crimes in the next book. —Bruce Grossman