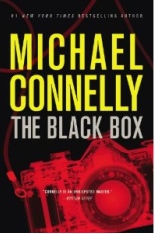 Fans of Michael Connelly's excellent Harry Bosch series know that the police detective's personal and professional code, motivating him to solve every case he takes on, has always been, "Everybody counts, or no one counts." Nowhere is that more apparent than in THE BLACK BOX, the 18th novel in which he's appeared.
It's been 20 years since Los Angeles was torn by riots in the wake of the acquittal of the policemen accused of beating Rodney King. As the anniversary of that troubled time approaches, pressure is on Bosch and the other detectives in the Open and Unsolved Crime Unit of the LAPD to solve those murders that occurred during the riots.
One such case is that of Anneke Jespersen, a Danish photojournalist found shot execution-style in an alley of South Central L.A. just as the riots erupted in 1992. Bosch, then a detective in the Homicide Unit, only had time for a preliminary investigation before the rush of violent events forced him to turn the case over to the Riot Crimes Task Force. It was never solved.
 
Two decades later, however, a bullet casing from a recent shooting matches the one Bosch found near Jespersen's body. That's enough for him to retrieve what little evidence is still in storage and reopen her murder case. The bullet and gun lead Bosch through a series of surprising and complicated events that span an area from the urban streets of South Central to the agricultural fields of central California's San Joaquin Valley. It eventually becomes an investigation that might cost Bosch his career, or even his life.
As is always the case with his Bosch novels, Connelly takes us deep into the procedure of the investigation, which utilizes the most contemporary, Internet-based crime data and resources along with such tried-and-true traditional techniques as in-person interviews with potential witnesses and their associates. Along the way, we see how police detectives are not immune from cutting corners or calling in favors when time is crucial and information is needed immediately.
 
Yet, as fascinating as all of this is, Connelly never forgets that what keep readers truly involved with the story are his characters. Here again, Bosch must somehow balance his tunnel-vision determination whenever he's deep within a case with the other intricate components of his life. These include his ever-challenging role as single parent to a 15-year-old daughter, a seemingly happy relationship with a woman he met during a previous case and, most especially, the oppressive new lieutenant of the Open and Unsolved Crime Unit who is more concerned about the statistics of his department than the human lives involved — and takes full advantage of any opportunity to have Bosch removed from the force.
 
These combine with an assured pace that lags only occasionally during the final quarter of the novel, leading the reader through twists and turns to an unexpected resolution — another hallmark of this series.
 
In his 20-year career as a novelist — which includes a second, legal-thriller series and several stand-alone works — Connelly still manages to keep his Bosch books inventive, fresh and often impressively relevant. These are among the reasons why any new work from him is reason to immediately readjust the order of your TBR pile. —Alan Cranis