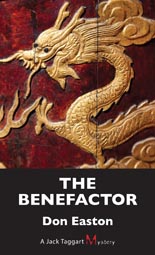 THE BENEFACTOR, the eighth book in the now long running Jack Taggert series, has arrived. What will be surprising to readers is how 'light' it is. What I mean by that is this might be the first in the whole series which will not make a readers skin crawl. Oh there are still moments of brutal violence. But no characters that truly just creep you out. Or the ones who really do some truly horrific like things.
Now trust me the book is still prime Don Easton which you will come to expect. But this entry definitely would fall more into the world of espionage. In the sense the baddies are actually spies. Not the James Bond type. more of the blackmail and use that information to their advantage type.
The story focuses on a young woman named Mia. Who while working through college has a job of being a low level spy for a mysterious man named Mr. Frank. Now this is not giving anything away int he story. Since this is brought up rather quickly and for good reason. Especially since early on in the book she gets involved in a traffic accident which sets the ball rolling in this latest book. The reasons there are issues is that Mia tries to hide a load of drugs she was given by her handler she was supposed to use later that evening. But when there is a witness who sees Mia hide the product. AS fast as you can say liquidated. That is what happens. Except there is a slight problem. What was supposed to look like a hit and run was just that. But they killed the wrong woman. Enter in Jack Taggert. Who quickly puts the pieces together. With Taggert believing its all connected to a local crime boss. With Taggert having the idea of using Mias as an informant who will pave the way to take down the boss.
Again this entry is slightly lighter in tone. Sure the violence in the book is brutal and there are those moments which truly make Easton stand atop the crowded world of crime. With the whole plot idea of putting in a spy network at the center of it all. Really makes the story stand out. Whats really great is that this book is perfect entry point for new readers. There is a sentence or two about two of the other books. But nothing that will truly ruin them. The way this one is written is that is like dipping your toe in a world which just gets deeper and a whole lot darker. So new readers will not feel as though they might have jumped to fast into his world of crime. Longtime readers will definitely get a kick of this book. Especially as things build to the climax which will totally deliver. I'll go out on climb and guess the next one will truly be the darkest of the series. Because you know something is truly brewing in that mind of Don Easton. A mind that sometimes truly scares me. —Bruce Grossman