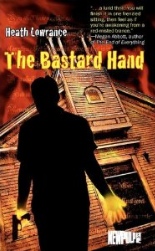 Coming off like the bastard child of Charles Willeford's THE BLACK MASS OF BROTHER SPRINGER, Heath Lowrance's debut novel, THE BASTARD HAND, plays in a world of noir. But the focus is not on criminals and police, but on a young man named Charlie Wesley, an escaped mental patient, and his newfound benefactor, Rev. Childe.
Childe is unlike any man of the cloth Charlie has even come across: a drinker and a ladies' man who keeps none of this secret to his new confidant. But Charlie seems not to be fully all right with himself, believing he hears his dead brother's voice directing him.
Childe and Charlie meet in Memphis after a night where Charlie gets mugged and left for dead. Childe offers not only offers money to the kid to get himself fixed up, but a chance of a new life in a small Southern town named Cuba Landing. This being a full-on noir tale, the small town is filled with some dark secrets, with one of the biggest being the former reverend who disappeared a year ago; the family still lives in town, and his sister is made out to be its pariah. And that is just the tip of the iceberg, since Childe aims to expose Cuba Landing it in the biggest way he can: from the pulpit.
With Childe burns as many bridges as possible and sleeps with any available female, Charlie deals with his own demons. At first, he figures this town is a perfect fit for him, but then makes a crucial mistake which causes his whole world to crumble.
Lowrance does an amazing job of keeping the readers guessing as to what will come next., and his character development is jaw-dropping for a first novel. From New Pulp Press, THE BASTARD HAND is a great find for the noir set, and there is nothing better than discovering a new voice in the field. —Bruce Grossman