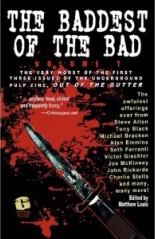 Pay no attention to the self-loathing subtitle of THE BADDEST OF THE BAD, VOLUME 1: THE VERY WORST OF THE FIRST THREE ISSUES OF THE UNDERGROUND PULP ZINE, OUT OF THE GUTTER. (The length, well, that's another story.) Because there's nothing sucky about this anthology, the debut release of Gutter Books, which, like the killer OUT OF THE GUTTER mag, comes from the effed-up head of Matthew Louis.
It's just like any given issue of OOTG, but twice the size, minus illustrations, fake ads, lewd cartoons and in-your-face crossword puzzles. So that means stories, hard as bricks and tough as Spanish bulls, organized by the time it will take you to consume them, from flash fic to half-hour reads. Imagine if Louis could organize them by awesomeness — his head would explode from the pressure.
Even if you have all the six issues thus far, you need this collection just for Louis' excellent introduction, which throws both the middle finger and a pat on the head to Alfred Hitchcock, as he explains how OOTG came to be: out of a moment of failure. Then it's on to the show.
In "10 Minute Reads" section, the first story is Victor Gischler's "Final Tally," which is kind of a one-man DEATH RACE 2000, followed by William Boyle's disturbing, sexually charged "Neighborhood Girl," followed by the even-better "Professionals," in which Michael Bracken spins a story of a male prostitute who gets into big trouble with one of his johns.
It's time for a "Flash Break" with two ultra-quick pieces: A picked-upon janitor gets some devious revenge in the corporate-set "Yellow Pellets" by Randall Rohn, and Matt Wallace's narrator reads over the "Notes" of the Polish man whose artery he just fatally clipped. (Another flash pairing emerges near the end.)
For "15 to 20 Minute Reads," D.Z. Allen provides a real highlight with "Spring Break in Mexico." Drenched in sex and sin, this tale of two college football players at a Mexican whorehouse probably best sums up the collection's "fuck you" attitude, determined to make you have a good time while rubbing your face in it. There's also John Rickards' tongue-in-cheek "Vengenace of Mine," whose lead character is Jesus Christ. No, really – Jesus Christ, as in the guy who died for your sins, "so show a little fucking respect."
A surprising inclusion is Steve Alten, author of the bestselling MEG series. I say "surprising," because let's face it: The guy specializes in underwater thrillers involving prehistoric creatures. But with "Lost in Time," he marries his love of the deep with a con man's revenge. Fitting perfectly, the result is exciting and among the anthology's very best pieces. Chris Pimental's "The Bitch Pit" immediately follows, and will anger many. Hell, it should. I won't spoil what the title refers to — in fact, I won't spill any details at all except to say the story involves Colombian midget rebels — but as horrified as you'll be, I bet you won't be able to stop reading.
Leading of the "30 Minute Reads" is Charlie Stella's "The Bet." Let's just say "Russian mob" and "flatulent hooker," and leave it at that. Louis himself has the unenviable task of following that, but holds his own with "Chinese Finger Trap."
Finally, there's a sampling on nonfiction articles, including two from Seth Ferranti on life behind bars — one dealing with survival, and the other a prison interview with a two-decade meth user. E.E. Howard traces the origins of organized crime in America, and journalist Alan Emmins takes a tour of an ultra-deviant underground sex club in Los Angeles, in which businessmen come to live out their twisted office fantasies with no repercussions whatsoever.
Gutter Books' next three planned releases are novels, and there's no safer bet they're pack the power of that scene in AMERICAN HISTORY X where that one dude eats curb for a midnight snack. To get a taste of what this new imprint is all about — like Hard Case Crime with a hard-on — give your forearm a few smacks on the palm and inject this book into the first vein that pops up. —Rod Lott
Buy it at Amazon or Out of the Gutter.