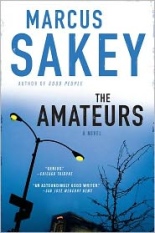 Marcus Sakey has proven himself a first-rate, character-driven crime novelist. In THE AMATEURS, new in paperback, he calls upon his protagonists to keep us involved with a rather weak, implausible premise. There are several impressive moments, but the overall results are less than satisfying.
 
Four friends — Jenn, a travel agent; Ian, a high-finance trader; Mitch, a hotel doorman; and Alex, a bartender — gather after work each Thursday evening at the bar and restaurant where Alex works for drinks and to take their minds off their dead-end lives for a little while. One evening, before his shift begins, Alex's boss, a sleazoid drug dealer, enlists him for an off-the-clock job.
He wants Alex to act as his muscle for a cash transaction that will go down in a couple of nights. Alex and his friends soon pull together a plan to rob the cash, divide it among themselves, and then each start a new, improved life.
It's all supposed to be quick, clean and bloodless. Of course, that's not how it happens. A man who unexpectedly appears during the heist ends up shot dead in an alley behind the restaurant as the four friends make off with the stolen money. In their rush, they steal the dead man's car, unaware until later that it contains the item that was to be exchanged for the cash that night.
Their happily-ever-after plans dissolve as the money quickly becomes too hot to immediately spend, and the robbery victims follow the trail that leads to their doors. What's worse, the pals discover that the item they ended up with is far more deadly that any drug they suspected.
 
Sakey's insight into his four main players is penetrating and convincing, but only two of the group — Ian and Alex — have the kind of disparate financial problems that make the risk of the scheme worthwhile. Jenn merely longs for some excitement in her life, while Mitch just needs a hefty injection of self-confidence. So when the robbery begins, we stay with it not so much from the suspense, but more from curiosity of just how bad it's all going to turn out — like watching a horror movie when some idiot goes into the dark room and you find yourself thinking, "Don't do it, you idiot!"
 
Not long afterward, Mitch goes through a major personality transformation that's fun to witness at first, but becomes predictable and irritating. The other three spend most of their post-heist time wallowing in the realization of their mistake. By this time, it's hard to retain any sympathy for them, especially when they end up wanting nothing to do with each other. The victims refuse to let them live such separate lives.
 
Those victims — Alex's boss and the men who initiated the production and sale of the deadly item — are not as intimately portrayed as the four friends, but ironically become more interesting than any of the main characters. Their scenes, both among themselves and with the hapless friends, are among the best in the entire work.
 
THE AMATEURS disappoints mostly because it is from the same author of stronger works like THE BLADE ITSELF and AT THE CITY'S EDGE. Thus, it is of far more note to die-hard Sakey fans. Those unfamiliar with him would do much better with any of his previous titles. —Alan Cranis