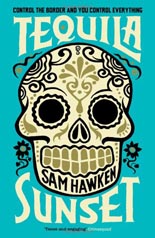 TEQUILA SUNSET, Sam Hawken's follow up to the Dead Women of Juarez, tackles another subject of note. That of drug cartels who run drugs and guns back and forth to Mexico. While Juarez just focused on homicides of women. This book take a broader aspect to the story. We follow three people all in different aspects of the story. We have an El Paso detective named Cristina Salas who is working her job while also dealing with raising her autistic son on her own.
Then there is recently released Flip Morales who got caught up in the gang Barrio Azteca due to his time in prison. Now he finds himself the center of unwanted attention of said gang now that he is out. And these are men who don't like to hear the word no. The the third deals with the other side of the border with Matias Segura a Mexican Federal Agent. Who has made it his life to take down the cartels no matter the cost.
Now Flip is trying to live a normal straight life by living with his mother and getting a job loading and unloading trucks. But again the Aztecas have other ideas for Flip. With those involving him becoming something in the gang lifestyle. Then the idea of using his job for their own benefit becomes a central point for his thread. Flip only sees one answer to this issue and that means doing what he did in prison that he kept secret. This thread of the book carries the book through all three characters. While Salas' story is intriguing of watching this women not only deal with the brutality of her job. But also making sure she spends as much time with her son whose issues become center stage at points.
Then there is Segura whose thread is of interest but seems to also get the short end so to speak. We see him deal with his choices that not only affect his job but his personal life. But again it feels as though Hawken had a great germ of an idea for this character. But leaves some lost opportunities on the page. There are supporting characters in the book namely involved with Flip's world that seemed more developed. But you can't fault Hawken. Since the book seems a slow burn at first. Till the reveals are made that really make you rethink one of the characters and their actions.
Tequila Sunset feels like a condensed view of a very serious issue. Where Hawken could have really explored even more territory with some of these ideas and characters. But then the book is already over 350 pages and Hawken never wastes a word. Sunset will be one of those books that is sure to be seen on more then a few top ten lists at the end of the year. —Bruce Grossman