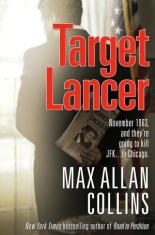 Few contemporary events have produced as much lingering debate and controversy as the assassination of President John F. Kennedy in 1963. So it should come as no surprise that Nate Heller, the protagonist of Max Allan Collins' excellent series of historical crime novels, gets tangled up in this watershed event in the author's latest, TARGET LANCER. In fact, Collins admits in his afterword that he planned to bring Heller into the JFK assassination when he launched the series in 1983.
But don't expect to find Heller perched on that "grassy knoll" in Dallas. Collins instead plays against expectations, and produces perhaps the best and most unforgettable entry of the series.
It's the fall of 1963 in Chicago, and Nate Heller is approached by a friend and former business associate of Heller's A-1 Detective Agency for help. The friend is repaying a favor by making a cash drop at a local strip joint, and wants Heller to accompany him for protection. Heller agrees and immediately recognizes the man receiving the cash as small-time mob associate Jake Rubinstein, who runs titty joints in Big D under the name Jack Ruby.
Not long after, Heller's friend is found murdered. Heller immediately meets with his underworld connections, including Teamster boss Jimmy Hoffa and crime boss Sam Giancana, to see if his pal was eliminated as a threatening loose end.
 
Then, just as Heller opens his own investigation into his friend's murder, he is summoned to a secret meeting with Attorney General Robert Kennedy, whose brother, the President of the United States, is due to make a personal appearance in Chicago in a few days. Assassination threats have been made that the Secret Service are taking very seriously, and RFK wants to enlist Heller into the agency's employ and utilize Heller's firsthand knowledge of his hometown of Chi-town to help prevent the POTUS from being killed. 
 
Collins' technique of skillfully and seamlessly connecting fictional characters with historical figures — a hallmark of the Heller series, not to mention the author's underrated and about-to-be-reissued disaster-oriented whodunits — transforms what first feels like a mob-instigated murder mystery into something more complex and far more sinister. Many of the real-life individuals are already familiar to Heller fans from earlier novels, most notably last year's BYE BYE, BABY. A few others, such as Lee Harvey Oswald, appear as events unfold here.
 
The Chicago setting is certain to feel disorienting at first, and eventually accepted as something from Collins' creative imagination. Yet, as he stresses in his afterword, research has shown that the Windy City was one of three attempts on Kennedy's life, leading up to that fateful ride through the streets of downtown Dallas that same year.
Heller himself, though admittedly older, nonetheless seems energized as he makes his way through the celebrated and lesser-known sections of his home turf. He may be getting on in years, but he still has his acute fashion sense as well as his eye for the ladies — and enjoys the company of legendary fan-dancer Sally Rand during his off-hours. His first-person narration, another series hallmark, is as sharp and cleverly cynical as ever.
 
Yet what is probably most impressive is the way Collins interjects his own theory of the JFK assassination without being intrusive or turning his novel into an Oliver Stone-style manifesto. He obviously does not agree with the Warren Commission's "lone gunman" dismissal, and ties elements of Kennedy's involvement with Cuba, organized crime and even clandestine activities of the Secret Service into a chillingly credible conjecture that is woven directly into the narrative. Even if you don't accept it, there is no denying that it makes for one hell of a gripping story.
 
Collins shares his aforementioned extensive research into the tragedy, along with his detailing of Chicago and popular culture of the period, in his "I Owe Them One" afterword.
 
TARGET LANCER is not to be missed, even if historical crime fiction is not ordinarily your preference. Look for it heading the list of all major crime-fiction awards this year, and probably walking away with a few.
 
The shooting of JFK may be, as Collins indicates, the intended target of the Heller series, but let's hope it is not the actual culmination. The thought of accompanying Heller as he investigates the hallways of a certain Watergate Hotel is too tempting to resist. —Alan Cranis