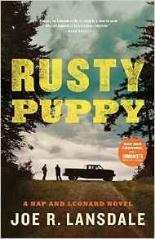 RUSTY PUPPY, Joe R. Lansdale's 10th Hap and Leonard novel, is another rough-and-tumble romp as the two unlikely friends and partners investigate the murder of a young black man and get caught up in a web of corruption and the lingering racism of their East Texas home.
Not long after being released from the hospital, where he was recovering from a near-fatal stab wound, Hap Collins, a self-proclaimed white-trash rebel, is approached by a black woman who lives across the street form the office were Hap works as a private investigator. The woman hires Hap and his partner, Leonard Pine, a gay, black Republican Vietnam vet, to find who killed her teenage son. Hap asks if the woman has consulted the local police – only to discover that the woman is certain the police are the ones who killed her son.
Hap and Leonard's investigation takes them deep into Camp Rapture, a decaying housing project, where the murder presumably took place. They are immediately approached by a group of unemployed, threatening youths who are suspicious of any uninvited guests to their turf. The Camp Rapture residence's reluctance to offer any helpful information is matched by the local East Texas cops; whose openly prejudicial attitude make them prime murder suspects, but are quick to provide ample proof of their innocence.
Before long, Hap and Leonard uncover an illegal fighting circuit, where the losers are dumped in a toxic pit and become "rusty puppies." Then Hap, Leonard, and their friends and families are threated by both the local law enforcement and members of the black community who want the duo to keep their noses out of affairs where they don't belong.
This is a noticeably more complex plot than many of the previous Hap and Leonard adventures and, as already noted, pulls the lid off of many simmering hostile attitudes by both the white and black residents of the duo's hometown. The fact that Hap and Leonard are such close friends as well as investigative partners make them the unsuspecting victims of the deception that runs deep throughout the narrative.
Yet through all of the unsettling events and revelations – occurring right up to the novel's conclusion — there is also ample opportunity for the smart-aleck wise cracks that are the one of the main hallmarks of the series. Leonard, as fans know, is never shy about his homosexuality and more than willing to throw it into any bystander's face. Hap's caustic asides shine mostly in the observations of his first-person narration, another series highlight. Here, however, Hap's near-death experience occasionally tempers his sarcasm with some nightmarish moments of introspection.
Along with the East Texas locale, the many secondary characters, both familiar and new to readers – also enrich the story; especially a pre-teen black girl who lives in Camp Rapture, and whose resentful attitude causes Leonard to refer to her as a "four-hundred-year-old vampire midget."
Early in the case, Hap admits, "Me and Leonard aren't so much detectives as we are persistent bumblers, though some detective skills were wearing off on us in spite of ourselves."
Regardless how he sees himself and his partner, Hap escorts us through the dangerous yet fascinating twists and turns of their current bumbling. And, as usual for this series and anything that carries Lansdale's name as author, we are more than willing to go along for the ride. —Alan Cranis