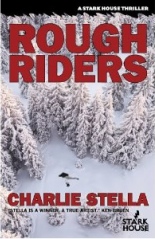 It's been 10 years since the events of Charlie Stella's debut novel, EDDIE'S WORLD. While ROUGH RIDERS is a sequel, the star of the previous book is not the main focus. My only question is that since this is coming from the fine folks of Stark House Press, why aren't both works packaged together like all its many twofers? If you have not read EDDIE'S WORLD, fear not: There is a brief recap.
Eddie makes a very brief appearance, but ROUGH RIDERS focuses on Washington Stewart, formerly known as James Singleton, a drug dealing murder living in the Witness Protection Program. He still has an ax to grind with Eddie, but Stewart has to worry more about two hired killers following him in an attempt to even the score.
The main thrust deals with Stewart trying to pull off a major score so he can skip not only the program, but the country. He has teamed up with an Air Force colonel who needs some help in two areas: getting rid of his philandering wife, and finding a way to make a load of cash off bundles of heroin.
ROUGH RIDERS jumps from various characters throughout. Some readers might get a bit lost with so many plot threads going all at once, but Stella ties them up into the central plots, so this can be forgiven. Plus, his writing harkens back to the lean and mean work of George Higgins.
Stella's characters' voices sound authentic: no macho posturing — just their brutal, hard world. This is one of the leaner crime novels currently out there. For those wanting a serious character piece where the payoffs deliver, reach for ROUGH RIDERS. —Bruce Grossman