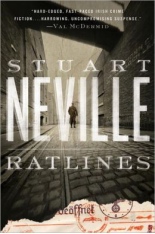 RATLINES is Stuart Neville's latest novel since finishing his "Belfast Trilogy" which began with 2009′s THE GHOSTS OF BELFAST, the stunning debut that garnered several major awards and instantly made him an international crime-fiction star. This newest work deals with several of the same major themes of the trilogy, but utilized in a historical novel focusing on a hidden part of Ireland's past.
The year is 1963, and Ireland eagerly awaits a visit from America's newly elected young president, John F. Kennedy, who is returning to the land of his ancestors. Dublin, however, is plagued by an odd series of murders of former German nationalists.
Albert Ryan, lieutenant inspector for the Directorate of Intelligence, is enlisted to investigate the murders and put an end to them before Kennedy's scheduled visit. A note planted on the latest victim is addressed to Otto Skorzeny, a former Nazi commando now living a very prosperous and comfortable life on a country estate outside of Dublin.
The note reads simply, "We are coming for you."
 
Ryan eventually discovers a network of former Nazis and collaborators, secretly immigrated into Ireland via routes known as "ratlines" and all presided over by Skorzeny. And Ryan finds himself protecting and defending a powerful and dangerous enemy he previously fought against as a solider for the Loyalists during World War II. The more he uncovers, the greater the danger from both those out to eliminate Skorzeny, as well as from Skorzeny himself.
 
Readers of the author's earlier works already know how skilled he is in portraying the agony of divided loyalties that stem from Ireland's troubled history. Previously, it was the violent divisions between Northern and Southern Ireland. Here, it is Ryan's time as a soldier fighting on the side of the British, whom many in Ireland consider a tyrant.
Add to that the additional conflict of being employed to protect a former Nazi. As a result, hardly a chapter passes without Ryan's loyalty questioned by his co-workers, his supervisors or — perhaps most agonizing — himself. Enhancing all of this are the multiple layers of deceit and betrayal that Ryan uncovers, eventually concluding that there is quite literally no one he can trust, except himself.
 
Most notable is the shift in pacing from Neville's previous works. Whereas the suspense was more gradual in earlier novels, here it is more immediate and conveyed in chapters much shorter than before. The characters remain staunchly believable, and the end results are as impressionable as ever.
 
Neville is quick to point out in his opening note that his story is entirely fiction, based solely upon real people and locations. Yet he incorporates the likes of such actual figures as Skorzeny and Minister for Justice Charles Haughey with his fictional characters so effectively, you'd swear you were reading reconstructions of historical events.
 
RATLINES again secures the author's position as one of the finest and noteworthy of contemporary crime. While he remains devoted to his home country for the setting and inspiration of his books, his themes are genuinely universal.
 
If you somehow missed the buzz resulting from his debut, RATLINES is an excellent place to discover Neville and, thanks to recent paperback reissues of his trilogy, quickly get yourself caught up. —Alan Cranis