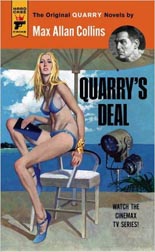 With the Cinemax series debuting later this year, Hard Case Crime continues reissuing Max Allan Collins' novels starring the hit-man character Quarry.
As 1976's QUARRY'S DEAL, the third book in the series opens, Quarry holds a list of names and addresses of others who also once worked for the Broker. Quarry has the great idea of finding one of them and finding his or her target, thinking he can get paid off by the would-be victim to not only take care of the killer for hire, but the person who hired them.
Quarry sets his sights on a young woman on the job, so to speak. He quickly figures out her target: a casino owner operating in Iowa. Quarry is quick to make himself known to the intended victim; all he has to do is figure out the team. He already has the woman under very close surveillance — by sleeping with her — but his digging around upsets a few people, who let him know that.
Collins really had a great ace up his sleeve with this one; it's no wonder he considers this his favorite of the Quarry books. We see the character at his most cold-blooded toward the end. I loved how DEAL develops, keeping readers guessing for the bulk of it. Even though some parts might be figured out early, there are others you won't see coming.
"Right place, wrong time" would make a great tagline to QUARRY'S CUT, a 1977 entry. A former associate who Quarry has not seen in years shows up near his home. Is this person there to hunt him down? It becomes apparent that it literally was just a coincidence, but that still does not sit well with Quarry, especially when what looks to be an accidental death happens.
Quarry knows full well who was behind it, so he sets out to protect the proposed mark, as in the last book. This time, it's a porn director making his last film before switching over to legitimate movies. The director is shooting nearby in an abandoned ski lodge, where Quarry goes undercover as a magazine writer. When the time is right, he reveals his true intentions.
To go further would ruin key plot points, so I'll just say this is the darkest of the series, qualifying as a black comedy. Collins revels in the idea of Quarry on a porn set, filled with some over-the-top characters. —Bruce Grossman