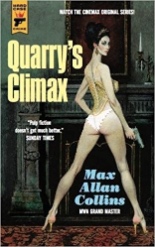 From the Hard Case Crime banner, this 14th title in Max Allan Collins's long-running series has everything you'd expect from a Quarry novel: hard-boiled dialogue, effective period recreation, and an assigned murder that is not all it appears to be. But perhaps owing to the nature of the plot, QUARRY'S CLIMAX suffers from a slower pace than most of its predecessors, as well as what feels like a disturbing lack of commitment from Collins himself.
The story takes place in 1975. The man known as Quarry, a former Marine sniper and Vietnam vet, has been a murder-for-hire assassin for almost five years. Not long after he and his partner conclude a job in Las Vegan, his boss, a refined gentleman known only as The Broker, visits Quarry at his home in Lake Geneva. Quarry has a new assignment, but with a noticeable difference than his previous cases.
Quarry and his partner must travel to Memphis to meet Max Climer. Climer, the operator of an all-hours strip club, has gained a national reputation thanks to a raunchy magazine he created and publishes called Climax. Climax is not the only slick girlie magazine on the market, but it has pushed the boundaries of decency with its graphic pictures of nude women. Now Climer wants to expand his empire with adult videos and new strip clubs in cities throughout the country.
Not surprisingly, Climer has many outspoken opponents. But one of these has taken the criticism farther and threatened Climer's life. Quarry is assigned to not only kill Climer's intended murder, but also stop those who planned the murder.
Thanks to his usual prodigious research (with many of his sources acknowledged in the "Author's Note" that follows the novel's conclusion), Collins effectively recreates the world of the mid-to-late 1970s. The clothes, popular music, movies, slang, and even the expanding sexual morals are accurate and in keeping with the period. And, as usual, Quarry's first-person narration is hard-boiled and sarcastic.
But once in Memphis, and established as Climer's new security consultant, Quarry is constantly distracted by the sexual temptations that surround him. The strippers and waitresses all seem more than willing, and even a few women Quarry investigates outside of Climer' club wind up in bed with him. At one point Quarry observes that if a bullet doesn't kill him during this assignment, syphilis just might.
But sadly, all this temptation, along with several scenes of overly long interviews, drags the story's pace to a near-crawl. When the action finally kicks in – with Quarry and his partner taking out a few gunmen under cover of darkness – the shock comes more from the abrupt change of pace than from the violence itself.
The disappointment mounts when the intended killer is revealed. (Skip to next paragraph to avoid a potential spoiler.) Almost everyone Quarry investigates has a personal grudge against Climer, but the individual who, we learn early on, has the most to gain from Climber's death is behind the attempted murder. For all of his impressive and prolific output, Collins has avoided such obvious predictability. Here, however, he seems surprisingly uninterested with the story (except for the noted ambiance) and seems to have chosen the easy way out.
While new or only occasional readers of the series would do well to skip QUARRY'S CLIMAX, longtime Quarry fans – the slightly older of which will recognize the similarities between Max Climer and the life and career of HUSTLER publisher Larry Flynt – will find the most to enjoy from this Hard Case Crime release. And they, like all of Collins's followers, will be more than willing to excuse the rare disappointment. —Alan Cranis