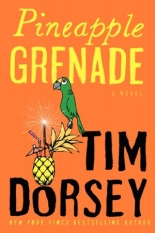 PINEAPPLE GRENADE is Tim Dorsey's 15th book featuring psychopathic serial killer Serge Storms and his perpetually stoned partner, Coleman. Storms doesn't kill at random; he seeks out the criminal element and finds those who need to be killed — carjackers, professional assassins, wife-beaters and the like. And he does it with such a sense of bonhomie and spectacular showmanship that you can't help but like the guy. He's funny and is a tremendous fount of Florida history, all of which he is very happy to share with the reader at length.
In this installment, Storms decides to try his hand at spycraft and so he infiltrates a number of the consulates in Miami to see if he can get a job. The goons at the Consulate of Costa Gorda throw him out into the street. Storms believes this means he has been hired. He has, in a way.
Even though he's not really employed by the Costa Gordans, everyone else believes he has been, including two competing teams of CIA agents who manage to bollocks up the whole thing. Eventually, after Storms accidentally saves the president of Costa Gorda during a carjacking, even the Costa Gordans believe he's one of them.
This is all told in the richly absurdist vein that exemplifies Floridian humor writers like Dorsey, Carl Hiaasen, Ted Levine and Dave Barry. It's all way over-the-top farce coupled with some extremely brutal violence. I had some complaints about earlier books in the series, which I felt dwelt a little too lovingly on the violence. No complaints this time around. The way Storms manipulates the intelligence agencies, and the way they let themselves be manipulated, is great comic terrain well-exploited by Dorsey.
This is one series you can pop in on late in the game; I recommend you do so. —Mark Rose