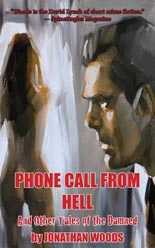 I'm always up for a collection of short stories, and the new collection from Jonathan Woods, PHONE CALL FROM HELL AND OTHER TALES OF DAMNED, is not disappointing one iota. Take the title to heart, folks, because for the bulk of the contents, someone usually winds up dead or at least shot.
To kick things off, we are treated to a history of a gun from the weapon's perspective, "The Handgun's Tale." The gun talks of his owners and their peculiarities. "Phone Call from Hell" deals with a man who helps out prisoners in a special way: leaving his phone on as he was being satisfied. The caller in question is none other then Charlie Manson. Woods also inserts real-life characters into "Writers Block," where we find Ernest Hemingway and Graham Greene on the hunt for spies and adventure in Havana.
"The Old Man" tells how paranoid delusions can really wreck your day, especially when they come true. "The End of Love" is the story of a ruthless businessman who gets a second lease on life in a way he did not expect. "A Bad Day for Barbecue" might make you rethink the next time you stop at one of those out-of-the-way places. You might not know what you're eating.
A real standout in the collection is "Swingers Anonymous," where a sexual escapade takes a rather deadly turn, forcing the narrator into a world of paranoia where he most likely will find happiness through a classified ad.
The OTHER TALES OF DAMNED seem to focus on the edge of society, where some aspects of life are truly in that area of "if no one finds out" and "cash can pay for anything, including killing off people." Woods' style throughout the stories never falters. For readers who like to take a trip to these areas, make sure to pick up a copy of this collection. While you're at it, pick up Woods' previous anthology, 2010's BAD JUJU & OTHER TALES OF MADNESS AND MAYHEM, also from New Pulp Press. —Bruce Grossman