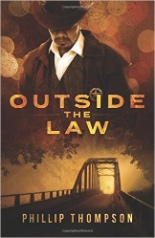 Author and journalist Phillip Thompson's latest crime novel, OUTSIDE THE LAW, follows the aftermath of violence within the world of street-level drug dealers and the mobsters who control the dealers and the flow of drugs in a rural Mississippi county. While the events and characters are never less than absorbing, the novel's overall impact is deadened due to Thompson's leisurely pace and shifting perspective.
Colt Harper, Sheriff of a small rural Mississippi county, has a problem on his hands. Small-time drug dealers who operate in his town are showing up brutally murdered. It isn't long before Sheriff Harper confronts Hack, a sharp dressing, intelligent talking and completely cold-blooded assassin hired by a Memphis mobster to eliminate the dealers. Hack immediately sees Harper as an obstacle to his assignment, but a very expendable obstacle.
Meanwhile, Molly McDonough, a Special Agent with the ATF, has been tracing the murders happening in Harper's county. When she senses the killings are the work of a single serial killer, she sees it as a chance to boost her floundering career and works her way into investigating the case in the Harper's home county. Then McDonough finds herself between Harper and Hack and a feud that quickly becomes deadly.
Thompson, the author of several previous novels and short stories, knows how to construct an effective plot. But this latest work suffers from a near-passive pace. Events seem to take forever to explain and eventually happen. The unfortunate result is that far too many scenes that should be suspenseful come off as dull and anticlimactic.
The constantly fluctuating perspective exasperates this problem. Thompson's third-person overview includes every major and minor character in the narrative. So much so that chapters are titled with the character's name (COLT, HACK, MOLLY, etc.) to help readers keep track of the focus. After a while we can't help but wonder if every character highlighted is worth the attention.
To his credit, however, Thompson's eye for character insight is convincing and effective. We learn, for example, about the overseas war experiences that made Harper and his deputy lifelong buddies; and that Harper would rather concentrate on his day-to-day job that bother with running a re-election campaign.
The one notable – and particularly disappointing – exception is AFT Agent McDonough, who serves no other purpose in the story than another distraction; and whose major participation does not occur until near the novel's conclusion.
Thompson also commendably relays the southern location of his story. The sparse, rural towns with their gas stations, bars, and superb barbeque joints are wonderfully presented. Also effective is way Thompson works the constant heat and debilitating humidity – aided by the several river tributaries – of Harper's Mississippi home county.
If Thompson has paid as much attention to the build-up of events and the necessary suspense they create as he did to his far too many secondary characters, OUTSIDE THE LAW would be a far more memorable crime story (and Colt Harper a possible series star, in the mold of such fictional southern lawmen as Walt Longmire and Raylan Givens, to name a few).
As is, Thompson's latest disappoints more than it enthralls. —Alan Cranis