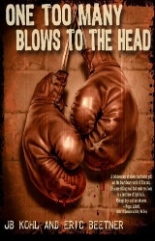 ONE TOO MANY BLOWS TO THE HEAD is like a post-modern Gold Medal novel. It's set in the boxing world of 1939 Kansas City, when mobs ran the town and all the fights were pretty much fixed, and cops were on the take and a sense of lawlessness ruled.
Fighter Ray Ward watched his younger brother die in the ring, only to find out the fight was fixed. Ray is hellbent to find the top man who ordered this to happen, and no one is going to stand in his way, because he's like a rabid pit bull. The story is balanced out by crooked cop Dean Fokoli, who knows full well his days on the force are short, and now is saddled with the task of finding out who is laying waste to the boxing underworld.
Ray has a bit of a problem in that when he goes to question people, they usually wind up dead, be it the fight promoter or the boxer his brother fought. All of this leads to a reveal readers won't see coming. BLOWS feels like a 12-round match with Ray not only delivering the blows, but taking some crucial hits himself.
The writing team of J.B. Kohl and Eric Beetner seems to have a window into the world of the late-'30s Kansas City, especially in their takes on the crime world. You feel as though this novel could have easily been an eyewitness account to those days, brimming with authenticity and never going for the cheap out. No one is black and white in this book, but more shades of gray.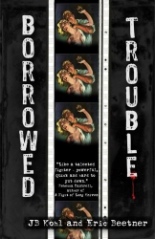 Picking up two years after the events is BORROWED TROUBLE. We find Ray living a hermit-like lifestyle in his brother's house, while Fokoli is off the police force and trying to make his way as a private investigator. Ray receives a package from a woman named Audrey who claims to be his sister. What's in the package is the impetus of the plot: a canister of 8mm film.
The reel is question captures the seedier side of Hollywood in 1941. Ray has no idea who this woman is or even that he had a sister, so he goes on the hunt for the one person who can help him, and TROUBLE moves to the West Coast. Ray and Fokoli barely have a lead into this case, but that doesn't slow them down. Once they arrive, they meet Audrey's roommate, but she is barely any help. She just provides a name of a filmmaker who might be mixed up.
Then another canister turns up, and it's a whole lot darker in tone and material. Can anyone say "snuff film"? At this point, Ray and Dean get split up, due to some local thugs, and we follow two separate paths as they check out all leads. Ray more than makes up for lost time by beating up people, and Dean uses his detective skills to track down the men behind these movies. It all leads to a brutal conclusion.
Kohl and Beetner have a real knack for this type of storytelling. One plot point was a bit telegraphed, but it's minor compared to the overall novel. Still, the story does go a little over-the-top with Ray becoming a one-man army toward the end. The book is a fantastic follow-up and could lead into another series, even with just Fokoli as the lead, since Ray just wants to be left alone. —Bruce Grossman