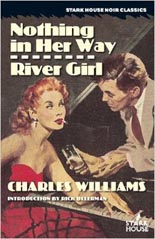 A few years can mean a world of difference. That is totally the case with Stark House Press' collection of 1951's RIVER GIRL and 1953's NOTHING IN HER WAY, both by Charles Williams. The difference in years between them is just two, but in that time, you can see the growth of a writer leap off the page. The later title comes first, but what a way to kick off the book!
NOTHING IN HER WAY is filled with con artists, schemes and double-crosses until the very end. While stories like THE STING or THE GRIFTERS show the con game in their own worlds, where everything is in a gray market, this one you know from the start that everyone is a crook, out for themselves.
Con man Michael Belen has a chance meeting with a man from his past, a man who comes with some baggage: Cathy, who happens to be Michael's ex-wife. She claims she has a scheme to exact revenge on a man that not only ruined Cathy's family, but Michael's, too. That is the basis for this entry into a world of truly shady dealings and even shadier people. Cathy and her current beau have made a few enemies along the way, and those fellas really would like to meet up.
You get a clear sense of this world of con men. Williams really hammers home how truly unlikable everyone in this story can be. Sure, they might come off in a different light, but at the heart, they are all crooks looking for an easy cash grab. Not to ruin the events, but Williams has one character throw everyone for a loop, showing that some good can peek through — not much, but some. Most readers will not realize that Williams had only been writing for a short time when NOTHING came out, since it reads like some prime noir, drawing comparisons to others of the genre.
RIVER GIRL is a fine trip into backwoods noir, as some folks like to call it, but it also shows that this was early in Williams' career. At some points, things seem to drag and repeat themselves, but there are moments where the author finds his footing in crime writing.
Jack Marshall is a deputy sheriff who should know better. One day while trying to escape the daily grind, he goes fishing up river, where he comes across a woman named Doris, who lives in a tiny little home in the middle of nowhere. The problem is an obvious one: Doris is married to a man who seems to be hiding out from his troubles.
Marshall becomes infatuated with Doris and keeps testing the waters. While his dalliances are going on, his boss is being investigated about the corruption in the department. What is Marshall to do? His plan of running off with Doris will take some scheming. A subplot deals with a young girl who works at a house of ill repute. Marshall has to not only deal with this girl, who might not be even 16, but a father with a mean streak a mile wide. It all comes to head rather quickly.
RIVER GIRL is not as fluid as NOTHING. It takes its time to develop, sort of creaking along the way. But toward the end, it delivers a one-two punch of an ending.
This being a Stark House release, the reader will enjoy Rick Ollerman's extremely detailed introduction of Williams' career, touching upon the themes he would use throughout his work and noting a definite dividing line. It's a rather interesting piece that might be best to read after the novels, since plot points of both are brought up.
This is another fine addition to the crime reprint world, in which Stark House Press continually delivers. —Bruce Grossman