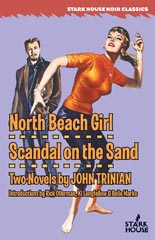 John Trinian was not his real name or was the name he would adopt and live by Zekial Marko. Marko is probably more know for his writing for various TV series including the Rockford Files, Once A Thief and Kolchak. But we are here to talk about two of the few book he did write, NORTH BEACH GIRL and SCANDAL ON THE SAND. Stark House Press has collected two of his better know works with a plethora of extras.
NORTH BEACH GIRL (1960) is very much like its subject matter. That of the beatnik culture and in question at the center a woman named Erin. A model who has had enough of that job actually all jobs are the bane of her existence.
Erin lives with other beatniks including a girl friend named Bruno. By chance Erin runs into an artist named Riley who slowly becomes her pillar to drink and hang out with. This upsets the world of Erin and her friends. Especially when Riley seems to have planted himself squarely into Erin's world. But he never comes off menacing more of an aloof presence who when push comes to shove he can get worked up. Erin figures she might be sick of this scene and heads off to visit her elderly grandmother. Who seems to just comes to life when Erin is back for a visit.
Now this story might sound like a girl trying to find her way which is the extent. But things take a dark turn one night in the house. And Erin is not sure where she really fits in. Or that her friends really were her friends all this time. This is not a straight up noir per se. But Trinian's style is that of being modeled after those who have come before him. There are those scenes where you do feel as though this is a world of not guns and gangsters. But more of menace and people living on the edge of society. Where their idea of speeding a day drunk is an accomplishment.
SCANDAL ON THE SAND (1964) the second half of this collection is a story of sticking a group of characters. Who would normally never interact with one another in a situation like no other. It starts off simply with a young couple spending the morning together after the previous night. To come face to face with a beached whale. Add to the fact a hired gunman who is just waiting to get out of town after a job. A tow truck driver whose job is to drag away the whale. And finally a police officer who has let the years of the job go to his head. And in his mind the decisions he wants to make are the only right decisions. No matter how others might feel. Especially that of a living whale.
The story is a slow burn to a keg of dynamite. You see the long fuse slowly work its way to the climax of the story. With the outcome that as horrific as it might be to some. The payoff afterwards makes it all worth the while. Trinian's work in this book just reeks of realism and thats really why both these books need great exposure
This collection paints a very clear and honest look at the author of Trinan/Marko. Rick Ollerman's opening piece goes through the career of Trinian/Marko. Explaing how even though not the most prolific what he did write should all be treasured. While also going into detail the life he lead. And as will be pointed out in the other two pieces how he livid by his own rules burning bridges along the way. The middle of the book is taken up by a piece from author Ki Longfellow. Who tells of her time as a teenager who would hang out with Marko and his friend Jack Kerouac. And how they would just drink. She talks about how Marko would take a writing assignment but never actually saw him write in that time. It was something he kept to himself.
The book closes out with a short piece by Belle Marko the daughter. Who matter of factley talk about her father and his bizarre eccentricities. And how by the end he alienated himself from friends and family where he would end up dieing alone. This is another great one two punch collection from the Stark House family. This might seem like a different break from the normal noir reissues. But it more then fits into those worlds, just with only one gun shot. —Bruce Grossman