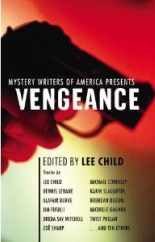 The swift, often personal form of justice known as vengeance is such a perennial ingredient of crime fiction that it's a wonder an original anthology of short stories devoted to this theme hasn't appeared earlier. No worries: Best-selling author Lee Child — he of the Jack Reacher series — has more than made up for it by editing the collection MYSTERY WRITERS OF AMERICA PRESENTS VENGEANCE.
In his introduction, Child started the project by personally soliciting stories from established authors he knows and admires before the MWA conducted a blind submission and judging procedure. The winning stories were forwarded to Child. "We all got the same brief," he recalls. "Write about vengeance, revenge, getting even, maybe doing a bad thing for a good reason. Or a bad reason."
Not surprisingly, the 21 resulting tales demonstrate the many and varied ways vengeance is carried out. In Michael Connelly's "A Fine Mist of Blood," the link to two unsolved murders results in LAPD Detective Harry Bosch discovering the identity of a secret vigilante killer. Alafair Burke's "The Mother" presents a slightly overcomplicated account of a lawyer convinced she is protecting the life of an abused child when she takes the law into her own hands.
Dennis Lehane takes us through the conflicting emotions of a woman hiring a hit man to murder her husband in "The Consumers," as well as the ironic results of said action. Child's own contribution, "The Hollywood I Remember," is a short, but involving memoir of a man whose job is far removed from the standard business of the movie industry.
 
The authors of the blind submissions may be lesser-known, if known at all, but their contributions are often just as worthy. Like "The General," Janice Law Trecker's tale of a Mexican warlord general living a secluded retirement in America, as the ghosts of his violent past are stirred up by his young son's friendship with a undocumented gardener. In "Leverage," Mike Cooper focuses on the laid-off victim of a factory acquired in a leverage buy-out, and how the suddenly unemployed and desperate worker seeks justice while clinging to his dignity.
 
This one of those rare original anthologies where the authors highlighted on the cover (which includes Karin Slaughter, Jim Fusilli and Brendan Dubois) are the obvious attraction, but where the works of the "ten others" linger in your memory as strongly as those of their famous counterparts. Whether you read the contents of VENGEANCE front to back, or skip back and forth, all are well worth your time.
 
Bottom line: This is one of the strongest and most impressive original collections to appear in a long time. Add it to the list of "must-have" anthologies you read this year. —Alan Cranis