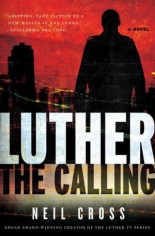 A year after coming out in the UK, LUTHER: THE CALLING, the prequel novel to the BBC series LUTHER, makes its U.S debut. For those unfamiliar with the TV show, it follows DCI John Luther, a cop who gets to the bottom of cases with a determination like no other. Luther is not a dirty cop or on the take, but he is a bad cop in the sense that he will bend the laws for his own reasons, whether his partners like it or not.
In short, Luther gets results.
This book is a complete standalone, so if you have never watched an episode (you're really missing out) or even heard of the show (ditto), THE CALLING works.
LUTHER creator Neil Cross has written other novels, but this character was written for the TV screen first. THE CALLING is seriously dark and gory, to the point that there is no way this could be translated to the series fully. It's a graphic tale of a horrific murder of a couple. The husband's genitals have been cut off and stuck in his mouth, while his very pregnant wife has been cut open with the fetus taken away by the killer. It gets darker from there, folks, and I'm not joking.
The story really puts readers through nightmarish scenarios, with Luther trying his hardest to solve the crime before things get worse. The book has a two other plot threads: one dealing with an old pensioner being harassed to leave his longtime home, and the other finding Luther's wife starting an affair and having doubts about her husband.
To get into details of the case would take away from the extremely visceral style in which Cross writes. Amazingly, no matter how horrific some scenes are, you want to stop reading, but can't, because you want to see how things turn out. You can hope for the best, but sorry: There is a bit of a body count, and it's not pretty.
For fans of the show, the ending plays into the series. I'll leave it at that. THE CALLING's build-up is super-engrossing and Luther is a character who also shines in his novel debut. —Bruce Grossman