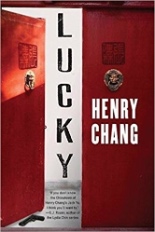 LUCKY is the fifth novel of Henry Chang's series featuring Jack Yu, the Chinese-American NYPD detective whose beat is mostly Chinatown. But just as the Chinese culture is felt in areas other than this self-enclosed neighborhood, the locations of Chang's crime series often covers many other areas of New York City. Still the most painful conflicts occur within Detective Yu's tortured soul.
Jack Yu and Tat Louie grew up together on the mean streets of New York's Chinatown. They shared similar dreams as trouble-prone youths. But as adults their lives took two distinctly different paths. Jack Yu joined the NYPD, eventually working his way to becoming a Police Detective. Tat became "Lucky" Louie, a notorious Chinatown gang leader whose dealings in drugs, gambling, and prostitution earned him a reputation throughout the entire city.
Then Lucky is shot outside an off track betting establishment, and lays in a coma for 88 days. Most gave Lucky up for dead, but then he recovers. Not long after leaving the hospital Lucky enlists the help of a few select Chinatown gang outcasts and forms his own posse to carry out violent revenge on those who took over his crime business while he lay close to death.
It isn't long before Lucky's crime spree reaches the NYPD. And, not surprisingly, Jack Yu is assigned to bring Lucky down.
Chang doesn't waste a moment informing (or reminding) readers of the inner struggles Jack Yu faces being of Chinese origin and working for a police force seen more as the enemy of New York's Chinese-American population than their ally. Each day he is torn between the deep cultural and religious ties of his heritage, and his responsibilities as a police detective to uphold the law. We witness this immediately in the opening chapter as Jack rushes to participate in Ch'ing Ming, the annual memorial period when friends and relatives perform ancient rituals at the graves of their loved ones.
Jack's conflict deepens when he learns that the recent Chinatown crime wave is the work of his boyhood friend. His loyalties are immediately questioned by his commanding officers. But this suspicion is nothing compared to the battle within Jack as he tries to reconcile his past and present life – all the while trying to prevent Lucky from facing a death he previously escaped.
Chang's style balances the hardboiled cynicism of the New York City streets with the more enriching philosophies and traditions of China. His sentences often contain Chinese phrases and references, spelled out in transliteration. This sometimes makes for difficult reading – especially when Chang forgets to include an English translation – but it's worth the effort as it underscores the tensions Jack experiences.
The perspective shifts back-and-forth between Jack and Lucky in sections titled by both main characters. But Chang wisely prevents each individual section from running too long and enriches both points of view with observations from the history of the Chinese immigration into the United States – especially as it changed the internal and external landscape of New York.
This combination of cultural conflicts and urban realities brings a unique and ironically refreshing approach to contemporary American crime fiction. Those new to the Jack Yu series won't find themselves at a loss if they begin with LUCKY. But they shouldn't deny themselves the enjoyment of such early series titles like CHINATOWN BEAT or YEAR OF THE DOG. —Alan Cranis