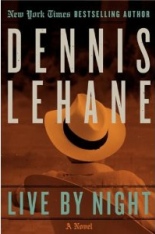 In his 2008 period-piece novel, THE GIVEN DAY, Dennis Lehane introduced us to Thomas Coughlin, the prominent but quietly corrupted Boston police captain, and focused on his son, Danny, in the years following World War I.
 
LIVE BY NIGHT, Lehane's latest, returns to the Coughlin family, but concentrates on Joe, the errant youngest son who follows a markedly different life path from both his brother and his father in the years of Prohibition. It's an often compelling story, rich in historical and period detail, but would have benefited from deeper character insight.
Young Joe Coughlin senses but doesn't quiet understand the loveless marriage that produced him and his siblings. He acts out his frustrations mostly through acts of petty crime, including setting fire to local newsstands with the help of his two close friends. As they grow older, the trio's crimes become more brazen. Then a bank robbery goes horribly wrong, and Joe is sentenced to prison.
While serving time, Joe learns more about the countries' two main mob bosses and their violent competition to dominate the illegal business of booze manufacture and distribution. Joe is eventually taken under the wing of one boss, who manages to reduce his sentence. He immediately dispatches Joe to Tampa, Florida, to take over the rum-running operations.
In the years that follow, Joe transform the operation into a multimillion-dollar business, while constantly avoiding the both the violent threats to his business and life, as well as the continual acts of betrayal from his business associates. Somehow, Joe prevails and, certain that Prohibition will eventually end, struggles to redirect his business into the world of casinos and gambling.
 
The novel's strongest assets are its location and period details, along with its historical perspective which directs the narrative without being overly didactic or expository. Lehane allows us to effectively feel both the freezing cold of the Boston winters, as well as the sweltering heat and humidity of Tampa, while highlighting the fashions and popular culture that distinguish the period between 1926 and 1935.
The machinations of the bootlegging business are another highlight. America may have made liquor illegal, but all the while longed for its libations, and Lehane makes this irony abundantly clear. Additionally, the ever-forward-moving narrative pace is reminiscent of the author's many contemporary crime and mystery novels.
 
Unfortunately, the downside to all these details and the cascade of events packed into the 11-year time frame is a sadly noticeable lack of character depth. After reaching a certain emotional plateau, Lehane takes us no further, but all the while drops tempting and teasing hints.
This is especially apparent, not surprisingly, with Joe. We sense Joe longs to achieve the nurturing he never received as a child through his obsessive love for the two main women in his life — first, a girl he meets during one of his early heists, and then a Cuban prostitute with a driving sense for social justice — and the unwavering loyalty he expects from his friends and associates. The few and fleeting moments of introspection, however, never makes this clear. Then there is Joe's recurring insistence that he is an "outlaw" rather than a "gangster." This could be an essential character insight, but again, Lehane provides little to distinguish between the two competing terms and leaves the debate unresolved.
 
You may long to know Joe and his various friends, lovers and business associates a little better, but the irresistible sense of period and place, along with the frequent bursts of shocking and often graphic violence that dominate the novel, are what keep you turning pages to the very end.
 
It may not be his masterpiece, but LIVE BY NIGHT will surely please Lehane's longtime fans and quickly become another of his best-selling successes. —Alan Cranis