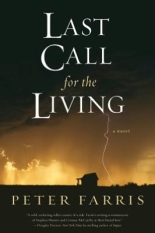 Peter Farris's debut novel, LAST CALL FOR THE LIVING, is an intense, violent and generally impressive piece of Southern-drenched noir. It suffers from a few indulgences typical for a first-time novelist, but these are mostly minor compared to its overall accomplishments.
Charlie Colquitt wakes up early for a Saturday morning. He has to, since he decided to work the half-day, weekend shift as a teller in the local bank in Jubilation County, Ga. He's hoping the extra money will help pay the tuition and other expenses of his college courses, and might even leave a little left for his hobby and passion: building and launching model rockets. At any rate, the shift is only three hours and should be over soon.
Hobe Hicklin is also up early, and waiting for the bank to open. He's not a customer; rather, the ex-convict plans to steal the newly delivered cash and head off into the North Georgia hills. Just as the bank doors open, Hicklin enters with a shotgun, grabs the money and takes Charlie hostage.
 
News of the robbery-kidnapping travels fast. Soon, Tommy Lang, the local county sheriff, is on the case, aided — to his initial surprise — by FBI Special Agent Sallie Crews. And they are not the only ones on the trail. Hicklin was initiated into the Aryan Brotherhood while in prison and part of a group that planned the bank heist. Once word gets out that Hicklin "jumped the score," a duo of recently released Brotherhood members set out to retrieve their money, even if it means killing Hicklin and anyone else who happens to be in the room.
 
Farris opens with alternating sections introducing his two main characters and the hot, humid, small-town Georgia locale. He keeps these effective separate perspectives following the abrupt robbery-abduction scene, and on through the sections where Hicklin hides out with his meth-addicted girlfriend, wondering what the hell to do with Charlie. As the other characters enter the narrative, they are also given their individual sections tracing their thoughts and actions.
 
Farris' greatest strength is his character portrayals. Hicklin and the two Brotherhood members who hunt him down, in particular, might easily become tired clichés spouting hatred for blacks and other minorities in their Southern drawl while showing off their crazy quilt of prison tattoos. Instead, the author gives them a surprising amount of depth and insight, while never allowing us to forget how desperate and brutal they can become.
 
The law-enforcement characters don't fair quite as well. Lang drowns the pain of his divorce and loss of his family in all-night drinking sessions, and sees this case as a possible source of salvation. We know less about Crews, other than her resourcefulness and her dogged drive to explore risky areas of the investigation. If these two characters seem thin, it's obviously because the convicts bring much more fascinating elements to the table.
 
The indulgences mentioned earlier are in Farris' narrative structure. In the second half of LAST CALL, he foreshadows scenes and minor characters in italicized sections. Yet he earlier uses the same technique to present past event and memories of one of the other secondary characters. It can't help but get confusing and difficult to follow.
Additionally, at one point, he suggests a relationship between Hicklin and Charlie that is more than random. It works at first, when Farris keeps it on the level of coincidence, but he unfortunately overextends it and strains credibility along the way.
 
If the characters and setting weren't already so convincing, and the tension less than involving, such distractions would serious sour the novel. Fortunately, these strengths carry the day and encourage us to move beyond them and see how the inevitable confrontation of the major characters plays out.
 
So let's welcome Farris to the ever-expanding world of contemporary crime fiction, and look forward to future works in the hopes that he's gotten those neophyte tendencies out of his system and relies more on his considerable strengths. —Alan Cranis