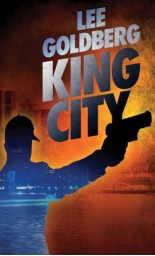 Dialing it a bit back from his last book, MCGRAVE, Lee Goldberg starts a new series in KING CITY, also police-themed, but very much a modern-day Western. Tom Wade is an honest cop who took down the whole Major Crimes Unit, of which he was a part. This did not sit well with the department, so they give him a new assignment they think will either get him to quit or be killed.
The job in question is running a police substation in the part of town called Darwin Gardens, where — as you might figure — only the strong survive. Wade is also given the help of two rookie police officers fresh from the academy. One is a headstrong African-American woman, while the other is a clueless wonder who is just thrilled to be in the action. This is all the help Wade gets.
Goldberg sets up Darwin Gardens rather quickly, in the sense it's a war zone under the control of one man, Fallon, the local boss who lets it be known that he is in charge. But Wade is a stubborn cop who makes it perfectly clear he can't be pushed around. The book does a fine job of setting up all the pieces, with Wade taking to his surroundings rather quickly. He even makes examples of some of Fallon's men the first night out.
But the main plot deals with the discovery of a dead woman in a car. When it's discovered she was working in the wealthier part of the town, Wade makes it his job to find the killer, especially when the homicide department can't be bothered to investigate or even show up.
Goldberg sets the tone of KING CITY rather well, giving the feeling of an old Western movie in which the local sheriff has no one to rely on but himself. This is the start of what hopefully will be a long-running series, since the author has done such a great job of placing all the pieces on the board. Now he can play with his creation any way he wants. From this looks of this, that promises to be full-on action. —Bruce Grossman