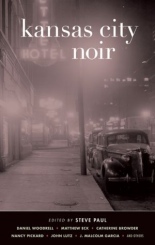 Akashic Books continues its series of original noir fiction anthologies based on a domestic or international location. Next stop: Kansas City, Mo., with KANSAS CITY NOIR.
Like several other U.S. locations, KC does not immediately conjure the bleak imagery of noir, so editor Steve Paul devotes his opening introduction to convincing us otherwise. In his view, it's Kansas City's four-corner crossroads location that throughout history has resulted in a diverse mixture of industry and opportunity — both legal and criminal. "It outfitted travelers and dreamers on the Santa Fe, California, and Oregon trails," notes Paul. "It grew on cattle, grain, and lumber. It nurtured Jesse James, jazz, and gin-slinging scoundrels."
Like many of its predecessors, the 14 stories gathered here are varied not only in their subject and style, but also in the way they acknowledge the titular locale that is common to all of them. For some, Kansas City plays an almost insignificant role; while most of the standout stories rely entirely on the city's history and ambience for their intended affect.
 
The former category includes Kevin Purfer's "Cat in a Box," wherein a detective hunts a sadistic killer while his own body disintegrates due to an incurable muscle disease. It's a fascinating and somber story, but could have taken place in any urban location.
 
In start contrast to this is "Yesterdays," in which Andres Rodriguez imagines alternate last days of the owner the notorious landmark Milton's Tap Room, and drenches his tale in a combination of local history and ironic nostalgia.
Kansas City is also renowned for its barbecue, and Nadia Pflaum uses this to full advantage in "Charlie Price's Last Supper," where the owner of a legendary barbecue restaurant suffers the consequences of contemporary culture shock when he enlists the help of a newly wealthy young rapper to relieve the eatery's long-standing debt.
 
Daniel Woodrell, probably the best-known of the contributors, and whose critically acclaimed novels are mostly set in the Missouri Ozarks, contributes "Come Murder Me Next, Babe," where the first-person narrator recalls his loving obsession with an infamous woman — based on a factual figure in Kansas City's criminal history — who manages to murder and elude the law for most of her life.
 
Between these two contrasts is Nancy Pickard's "Lightbulb," the story of a woman suddenly jolted by a 50-year-old memory of a frightening near-encounter when she was a child and the regret she suffers when she finally tries to make thing right. More than the various local landmarks, it is Pickard's subtle but lingering observation of the town's racial divide that give the story its unique character.
 
Even those stories where Kansas City plays a less-than-essential role are worth reading, and again, as is often the case with this series, KANSAS CITY NOIR likely will introduce readers to authors they might otherwise have never noticed.
 
Travel has many unexpected benefits, so even if you've never had a reason to visit the city itself, you'll find KANSAS CITY NOIR surprisingly well worth the price of the ticket. —Alan Cranis