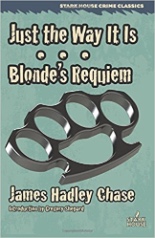 Stark House's Crime Classics continues to reintroduce readers to the works of prolific thriller and mystery author James Hadley Chase with this duo of novels, JUST THE WAY IT IS and BLONDE'S REQUIEM, first published in the mid 1940s under one of Chase's several pen names (Raymond Marshall). These works demonstrate the forms and themes that fascinated Chase throughout his career of over 90 mostly hard-boiled thrillers.
JUST THE WAY IT IS (1944) traces the collapse of a gambling organization over a three-day period. Harry Duke, a professional gambler, follows a strange real estate sale and, with the help of Clare Russell, a reporter for a local newspaper, uncovers the organization's corruption that eventually collapses under its own weight – with some murders along the way.
BLONDE'S REQUIEM (1945) is one of Chase' few private detective novels. Marc Spewack, a PI from a New York agency, is hired by one of the three men running for Mayor of Cranville, a small town outside of New York, to find three missing girls. Before long Spewack discovers that the other two candidates are also looking for the missing girls; and the one who finds them is certain to win the race for Mayor. But there's much more to the case, as Spewack learns.
Chase, born and raised in London, preferred the U.S.A. as the location of his mysteries. Both of the novels featured here show Chase's familiarity with the landmarks of America – especially the major cities of the east coast – as well as the idioms of the period. Wise cracks flow freely and frequently – especially in JUST THE WAY IT IS, which, as noted by Gregory Shepard in his Introduction, feels like a wonderfully sardonic 1940s Hollywood B-movie.
Along with the Americanized locales, Chase was also fond of the various kinds of corruption that fueled his characters and their daily lives. Gambling is especially apparent, but there are also gangsters, crooked politicians, suspicious land sales, and dubious loyalties in these and several others of Chase's works.
Of the two novels, the structure of BLONDE'S REQUIEM will be the one most familiar to crime fiction fans, with its Chandler-like first-person narration and private detective lead character. But the knight errant moral code that drives Chandler's Marlowe is missing in Chase's Spewack, who pursues his case mostly out of sheer determination to finish the job he was hired for.
Both novels are full of memorable scenes and plot twists that move the narratives forward. And with the exception of a few dated and dubious period expressions (did Americans really use the word "shan't" back then?), the novels are as fresh and involving as when they were first published.
The afore-mentioned Introduction by Gregory Shepard traces Chase's career, with its various successes and pitfalls, and places these two novels within Chase's notable output. A bibliography of Chase's works, including those published under the pen names he used, follows the text.
Chase continues to find new admirers today, thanks mostly to Stark House's reissuing of his works. These two novels aptly show why Chase is well worth rediscovering by all lovers of crime fiction. —Alan Cranis