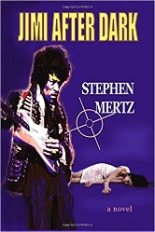 Crime author Stephen Mertz's latest novel, JIMI AFTER DARK, continues his use of popular and influential musicians as the backdrop to a story of murder and mystery – a trend he began with his 2011 novel, HANK AND MUDDY. This time, as the title reveals, the musician is the iconic Jimi Hendrix.
The setting is the early 1970s. Although at the height of his popularity, a few lackluster performances have placed Jimi Hendrix's career in jeopardy. A music festival he was to headline is canceled. Suddenly desperate for money, Jimi retreats to London – the city where he first found fame with his psychedelic blues guitar playing – and gets tangled up with loan sharks.
Fearing for his life, Jimi contacts his Army buddy, a man who calls himself Soldier, for help. Soldier, on leave from his current tour of duty in Vietnam, flies to London to help his friend. It doesn't take long for Soldier to uncover a plot to kill Jimi. But those who want Jimi dead are not simply after money, and may be part of a secret conspiracy to kill Jimi and other rock stars.
Following a brief third-person prologue, the perspective switches to Soldier's first-person narration and stays there for the duration of the novel. Soldier's voice is hardboiled and war-weary, but his devotion to his friend is immediately evident. He remembers Jimi from the days before stardom, but also realizes how much Jimi's music means to fans all over the world. In fact, as Soldier recalls, Hendrix music was the soundtrack to many of the battles he encountered in Vietnam.
There is always the risk when incorporating real-life characters into fiction that the portrayal will be less than accurate, or distract from the actual plot. Mertz avoids these pitfalls by keeping the scenes involving Jimi brief and to the point; and by Soldier relating mostly to the lesser-known or fictional women in Jimi's life during this period.
Still, there are awkward moments when Mertz tries to include the history of Jimi's past into the narrative. This is most apparent during a chapter when Jimi, held captive by one of his potential murderers, recalls the early days when he was formulating his persona and style while playing n Little Richard's band. Or when Soldier remembers one of his more threatening battles in the Vietnam jungle.
Fortunately Mertz returns to the main plot shortly after these detours and the events unfold to an unexpected conclusion – with plenty of violence and suspense along the way.
Mertz also effectively recreates the ambiance of the period – with its plentiful drugs and casual sex – without overplaying his hand. London, like many major cities of that time, is populated by the clash of those caught up in the whirlpool of collapsing taboos, as well as those clinging to the older attitudes they grew up with.
In his Afterword Mertz reveals how the novel was inspired by anecdotal events recalled (but never fully proven) by Hendrix before his untimely death. He also lets the reader in on which characters, besides Jimi himself, actually existed and which were created for the story.
Reading JIMI AFTER DARK will cause those who recall such groundbreaking albums as Are You Experienced or Electric Lady Land to pull out their old vinyl copies or CD reissues and listen again to the music of this innovator whose small output continues to inspire and influence musicians to this day.
So see your way past the disappointingly ugly cover art and let Mertz guide you through his story of this heady time when an American expatriate forever altered the course of rock music when he changed his name from James to Jimi. —Alan Cranis