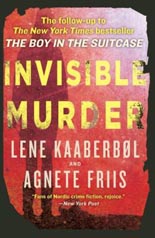 I'm sorry. I'm an old man, and it's a short life. So by the time I reached page 63 of Lene Kaaberbøl and Agnete Friis' INVISIBLE MURDER from Soho Crime, I had to consider whether I wanted to continue reading. And I couldn't convince myself to do so.
So this is less of a "review" and more of an admittance that I just couldn't handle the number of characters, the stuttering storyline starts that seem to go nowhere, the moral angst between native Hungarians and the Roma (Gypsy) people, and the utter ridiculousness of the final scene that I read.
Sándor was apparently born Roma, but was adopted out of the family. He still keeps in touch with his brother, Tamás, however. Tamás has found something in an abandoned building (which is hardly likely) that may be very valuable. It is certainly very dangerous.
One day, Tamás shows up at Sándor's apartment, and asks to use the Internet. Sándor is suspicious and believes Tamás might steal his computer (ah, there's the classic stereotype) but allows him to use it anyway, even though Tamás could have gone to any number of Internet cafes or Internet-capable libraries (they do exist in Hungary, you know).
Sándor has to pee and must leave the room. When he returns, Tamás is gone and has stolen Sándor's passport. Of course. He left the computer, though, so … yay?
Shortly thereafter, Sándor is confronted by the NBH, Hungary's National Security Service. They accuse him of visiting, on his computer, innumerable websites that have ties to terrorist organizations or armed paramilitary groups. Oh, imagine that. Does Sándor tell the truth? No, of course not.
Fine, nail Sándor to the wall then, because I've stopped caring.
Look, I think there may be an interesting contemporary thriller lurking between these covers, but I couldn't feel anything for the characters or their motivations. They all seemed to be overacting in what promised to be a tedious modern morality play. I won't discount it out of hand because I didn't finish the Danish novel, a follow-up to 2011's THE BOY IN THE SUITCASE, but maybe that says it all right there. —Mark Rose