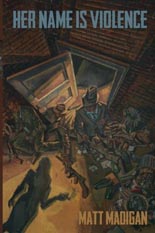 Taking the idea of an old-school detective paperback but infusing it with current sensibilities is what Matt Madigan has done with HER NAME IS VIOLENCE. Reid Hollow is a working detective. But he is not one of those who constantly butts heads. No, Reid works for a large agency, but there is a definite streak of Mike Hammer shining through him.
The book deals with what should be an easy job: tracking down and finding a missing man by the name of Marshall. You know the type: one of the movers and shakers of the community with money to burn. It's his wife who wants him found. Hollow takes the case and has to keep things on the QT, so as not to bring shame to the family. If only.
What Reid discovers is a world of snuff films, child abuse and some truly loathsome characters. While some writers would use just the missing man as the crux of the story, Magidan uses it as only a small part. As the case progresses, discoveries are made that make Reid go into all-out revenge mode.
Madigan might not have realized how much of a Mickey Spillane influence runs throughout his novel, but it's clearly there. While there are some asides that could have either been trimmed or cut out completely, the bulk of the book is a welcome trip through the dark world of this city, with some nice turns and an explosively brutal ending, which is the only way things could finish.
Even this longtime crime reader found one or two surprises he did not expect. Madigan really developed all the characters well, with one in particular really trying to throw as many roadblocks in Reid's way as possible.
The whole of HER NAME IS VIOLENCE is told from what I'm guessing is a much older version of Reid, since he throws in references to how some characters have been in his life for years. It seems Madigan is setting up this character for a series, which would be great. —Bruce Grossman