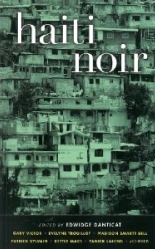 When the Jan. 12, 2010, earthquake hit Haiti, killing more than 200,000 people and leaving millions homeless, editor/author Edwidge Danticat knew she had to seriously rethink her HAITI NOIR anthology for Akashic Books that she began a year before.
Additional stories were solicited, of course. But rather than group those newer stories into "pre-" and "post-" groupings (as was the case with Hurricane Katrina in Akashic's earlier NEW ORLEANS NOIR), Danticat wove the quake-oriented stories into the three already designated sections of her book. "If anything, each story is now, on top of everything else, a kind of preservation corner," she notes in her illuminating Introduction, "a snapshot of places that in some cases have been irreparably altered."
These places, both before and after the devastating quake, were ripe for noir stories as almost the entire population of Haiti struggles daily with crime, poverty, and political corruption. These themes, often mixed with dashes of esoteric religious beliefs and superstitions, dominate the stories Danticat presents.
Patrick Sylvain's "Odette," which opens the book, is a notable example. Taking place on the morning immediately following the earthquake, it details the destruction while focusing upon an elderly woman gifted with second sight who is punished by her neighbors for not warning them. "The Finger," by Gary Victor, also uses a touch of the supernatural in a story of a robbery where one of the perpetrators cuts off a victim's finger to gain a jeweled ring.
 
Josaphat-Robert Large's "Rosanna" deals with a higher level of Haitian life in a story of a beautiful and privileged young woman who ventures away from her home to explore her family roots, only to become the victim of one of the countries' frequent kidnappings. Large adds an unexpected and disturbing kick to the end that makes it linger in the reader's mind long afterward.
 
Haitian culture thrives both at home and throughout its diaspora, Danticat notes. A wonderful example of this is the darkly humorous "The Leopard of Ti Morne," by Mark Kurlansky. The exotic lure of voudou — aka "voodoo" — haunts the life of a young Jewish man in Florida who longs to make Haiti and its gods integral to his empty life. But his efforts make him the unwitting victim of a scam carried out by a group of cunning Haitian natives.
Not all of the stories work as well, as is the case with most anthologies, and several simply end rather than conclude. But all present life in a corner of the world whose impression to most of us has been formed mostly by misleading B-movies and antiquated novels, or more recently by news stories of natural disaster and never-ending corruption.
 
If this weren't enough to add this collection to your reading pile, it should also be noted that a portion of the profits from the book's sales will be donated to the Lambi Fund of Haiti, "a nonprofit organization working toward economic justice, democracy and alternative sustainable development in Haiti." —Alan Cranis