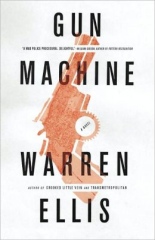 GUN MACHINE, Warren Ellis' second all-prose novel may not be as outrageous as his previous CROOKED LITTLE VEIN, but that's not to say it isn't impressively creative and noteworthy. In fact, by grounding this follow-up a bit more in reality, the noted comic-book author has crafted a more relatable, more suspenseful page-turner and given an altogether new spin to the familiar crime-fiction motif of the serial killer.
Responding to reports of a domestic disturbance that claims the life of his partner, New York City Police Detective John Tallow breaks into a nearby apartment and discovers a room full of guns — lots and lots of guns.
An investigation begins, and soon it is revealed that each gun is linked to a previously unsolved murder; some dating back as far as 20 years. Tallow ought to be on administrative leave, so soon after the death of his partner, but instead is assigned to use the guns to trace a killer who has somehow murdered hundreds of people undetected for more than two decades.
With the help of two unhinged crime scene investigators, Tallow suspects a weird pattern to the arrangement of the guns in the apartment. This eventually leads him to a secret conspiracy that not only involves the killer, but also some of the city's most successful businessmen.
 
Ellis utilizes the early history of New York City as the basis of his story and creates a killer — known only as "the hunter" — who clings to the city's Native American past while avoiding the traps of the modern day. The hunter's methodology, also containing elements of both past and present, is unlike that of any serial killer previously encountered.
 
Ellis presents this narrative, equal parts procedural and probing character study, in a prose style that is conversational, yet tense and propelling. While the perspective shifts between Tallow and the hunter, it blissfully remains balanced and adds relevant information while constantly moving the plot forward to their inevitable encounter.
 
Yet for all its creativity and inventiveness, what lingers in the memory along with the hunter and his scheme is the portrayal of Tallow and his fellow investigators. With no time to adjust to the death of his longtime partner, Tallow's already fragile mental state progressively loses its mooring. Somehow, he manages to gain the trust of his superiors with only a hunch and no physical evidence to support his theory. His only solace winds up being the two oddball crime scene investigators working the case who, while both brilliant, are best left within the confines of their lab.
 
Ellis is already well known to comics fans, with such works as MINISTRY OF SPACE, TRANSMETROPOLITAN and RED (the basis of the Bruce Willis movie) to his credit. Now, with this novel, he has joined the ranks of contemporary crime-fiction authors who bring fresh and often unexpected interpretations to the genre's well-worn themes.
 
Even though it's early, GUN MACHINE is already one of the most impressive works of this new year. —Alan Cranis