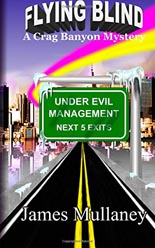 In FLYING BLIND, its a new adventure for PI Crag Banyon. A detective barely scrapping by whose cast includes one of Santa's former elves as an assistant. And a secretary whose picture is part of the definition of incompetence. This entry James Mullaney sets his sights on the world of superheroes.
Well actually one hero a new one by the name of Minus. Who in his short time in the job already has an arch nemesis. The problem being he only seen fleeting glimpses of him and that of mainly white hair. So whats a hero to do. Well hire a PI to do all the leg work of course.
Now this being a Banyon story Mullaney has plenty of time to set up jokes then knock them out of the park so to speak. One of the running gags in this entry is that of the Grim Reaper and his utter hate for bicycle messengers. The bodies pile up mainly when they come close to Banyon. But then there are other throw away jokes which why no one else have done them is a surprise. When Banyon has to visit the West Side part of the city. Yes you guessed it. Its filled with with gangs who dance instead of fighting. Somewhere Leonard Bernstein is chuckling.
But again the story is more about Banyon and his attempts to help Minus on the hunt from Dr. Cohen. With out course one of the problems being there are 16 pages of Dr. Cohens in the phone book. Then of course Dr. Cohen is not one to take things sitting down. Namely placing a nuclear bomb in the middle of the city. But then his demands are pretty reasonable for an evil mastermind. Opera tickets, a parking space there and five hundred million dollars. Of course the biggest issue is the parking space at the opera.
This is now the sixth in the series with Mullaney getting even more glee then ever. The story has plenty of laughs and I challenge anyone who reads this. When the introduction of a certain operator is introduced you can't go further with out hearing the voice of Sophia Vargas coming out of that characters mouth. It just seems so obvious that is who its based on. If you're looking for a detective series which clearly has its tounge in cheek. Then do yourself a favor and start reading this series. Not all crime books need to be set in a world of darkest noir. But fear not there are plenty of drunks. —Bruce Grossman