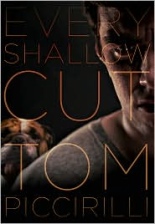 A glimpse into a life that has hit rock-bottom sums up EVERY SHALLOW CUT, a bite-sized read from the reliable Tom Piccirilli. Our narrator is nameless, but we know he is a writer whose career has hit the skids when he talks about how his first book was no best-seller, and the subsequent books sold even less. His last royalty check, for $12, sits in his wallet, and we find him selling off all his goods to a pawn shop.
How can things get any worse? Well, there is the gang of kids who promptly stomp him and beat his dog. Our narrator then promptly goes back into the shop to buy a gun, for reasons he keeps to himself. As you can see, this is not what you would call the feel-good read of 2011.
He relates to the reader how his wife has left him, the bank foreclosed on his house, and now the only thing he can think of is to drive back to New York where he first lived. This book is a road trip through these economic times, with pit stops at an old girlfriend who quickly wants him gone, to his stay at his brother on Long Island, who is still the jerk he grew up with — all the while, our narrator thinks of fantasies that involve his gun. But he also is furiously writing long form on legal pads, since his laptop was the first thing to go.
The story delves deeper and deeper into the life of our "hero." Piccirilli paints a seriously bleak picture of when a life just never delivered on a promising career. This is a story of a writer who arrived at the wrong time, and the writing in it is as stark as the plot. There are some truly great lines that resonate in the mind. As short as this book is, it packs more energy than all but a few writers of today can muster.
A word of warning: If you are a struggling author who has fallen on hard times, don't think of this book as a how-to guide. —Bruce Grossman