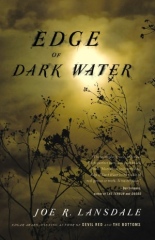 Joe R. Lansdale's latest returns to the Depression-era, East Texas setting he used in such memorable past works as THE BOTTOMS, SUNSET AND SAWDUST and others. While the setting may be familiar to longtime Lansdale readers, EDGE OF DARK WATER easily stands on its own and succeeds wonderfully on several noteworthy characteristics.
While fishing one morning with her dad and uncle, Sue Ellen discovers the sunken body of schoolmate May Lynn, a popular, pretty young girl. Someone tied a Singer sewing machine to May Lynn's foot, and tossed her into the Sabine River. Sue Ellen's father would prefer tossing the dead body back into the muddy water, but the others insist they haul the corpse into town and bury her.
Not long afterward, Sue Ellen joins her friends Terry, a local boy, and Jinx, an African-American girl she has known all her life. The three recall how May Lynn always dreamed of going to Hollywood to be a movie star. Then, while reading though her diary, they discover the hidden location of a huge amount of cash May Lynn's brother had stolen years ago. They decide to find the money, dig up May Lynn's body and cremate it, and then travel to Hollywood where they will scatter her ashes.
Once they secure the cash and ashes, they make their way to the riverside where they know of a huge abandoned raft. But just as they are about to shove off, the friends are joined by Sue Ellen's mother, who has fled from her drunken, abusive husband and her addiction to an alcohol and laudanum-laced cure-all tonic.
 
It isn't long before the the group is pursued by Sue Ellen's dad and his friends who learn about the stolen money. What's worse, someone has hired a feral, nightmarish-looking and sadistic tracker known as Skunk to find them. Everyone has heard the scary stories about Skunk, and they know he will stop at nothing until he finishes what he was hired to do — even if it means killing people.
 
One of the novel's immediate charms is Sue Ellen's first-person narration. Her oft-threatening family life and the hard times plaguing East Texas make her wise beyond her mere 16 years. Her story is filled with compassionate insights and spiced throughout with bawdy, Southern-tinged humor. Lansdale masterfully manages to incorporate all the twang needed while keeping the narrative flowing and easy to follow.
 
Any novel utilizing a trip down a river on a raft will inevitably invoke Mark Twain's ADVENTURES OF HUCKELBERRY FINN. Yet Lansdale doesn't overplay the similarities, knowing for one thing that the Sabine River is not the Mississippi. While both stories include occasional stops along the riverside and encounters with local residents, Lansdale keeps the focus on Sue Ellen as she progressively learns more about her mother, her family, her friends and ultimately herself.
 
The book then takes a more suspenseful turn as Skunk draws closer, making the group's quest to scatter May Lynn's ashes — and escape their pathetic East Texas existence — a fight for survival. These sections, leading to the conclusion, are marked with the kind of over-the-top, near-surreal violence that are among Lansdale's fictional trademarks.
 
Not just any author can combine a touching, coming-of-age story with elements of suspense, shocking violence, salty humor, social and racial commentary, and the icons of one of the best-known works of American literature, and make the whole concoction work beautifully. But as any of his many fans will tell you, Lansdale is not just any author.
 
EDGE OF DARK WATER is another stunning triumph for him, who for many years has proven himself one of the most talented American storytellers working today. His latest novel is inarguably one of the best novels of this year. —Alan Cranis