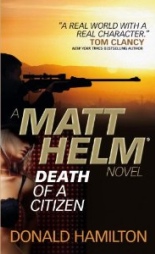 The coldest bastard ever. That sums up the character of Matt Helm perfectly, in my and others' opinions. For those unfamiliar with one of the best in the spy genre, Titan Books is in the process of doing a massive reissue campaign of the late Donald Hamilton's entire series. With titles coming out every other month, I'm more than ecstatic!
I've been on a "Helm needs to be reissued" campaign for years. No longer will readers have to deal paperbacks falling apart or smelling of old, musty homes. No more will readers be forced to pay exorbitant amounts for some of the titles by price-gouging used bookstores. Sadly, I'm speaking from experience.
The name Matt Helm might seem familiar to some people because of a four-film series of movies starring Dean Martin. I really need to point this out plain and simple: The movies and the books only share the name of the main character, and nothing else. Hamilton's Helm is not some charming lothario; he is the type of person who would make James Bond wet himself in fear.
Originally published in 1960, the first Helm novel, DEATH OF A CITIZEN, opens up simply enough at a cocktail party — the last bit of enjoyment Helm will have for the rest of the series. It's there where he comes face-to-face with his past. See, in the days of WWII, he worked for a secret organization that handled the really dirty jobs: the ones where if he was severely injured and could not continue, his fellow team members would leave him to die.
This is all explained rather succinctly in the unique writing style of Hamilton, an author who never got the respect or recognition he so deserved. Once the events of the party fade away, the true nightmare of the story takes shape, with Helm being drawn back into a life he left 15 years earlier. Now married with three children, he slowly becomes the man he once was.
This is not by choice, but by events that he is pushed into, thanks to a dead body in the bathtub of his work studio and the women who he once had feelings for during wartime. While all this is going on, Hamilton is truly playing readers like a violin, slowly showing the transformation of this simple family man into the monster he once was. The rust is slowly knocked loose for Helm; once he is back to speed, there is no turning back.
DEATH OF A CITIZEN is tight and lean. Never once do you feel that Hamilton is just filling pages. There is a reason for everything that is brought up, with it all building to the moment where the title takes center stage. Here's a hint: It's about Helm's once-tranquil life. Readers will realize at the exact moment the literary death of sorts happens. Sure, there are other bodies left for dead beforehand, but this again is more about Helm himself.
The novel is a masterpiece of sorts which will now enjoy new life. Hamilton never goes for the shock value or even describes the full amount of violence. He leaves it to the reader with how certain parts play out, yet you know the sheer brutality that is about to transpire.
So put down those loner/stranger-comes-to-town books and start reading one of the must brutal novels you'll ever find. I mean, in those movies, Dino never smacked a woman in the mouth with a gun butt, much less shoot her later on without so much an afterthought. And that's not even the really bad stuff. —Bruce Grossman