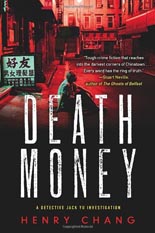 The third installment of the Jack Yu series continues in the same vein with DEATH MONEY. Yu is a homicide detective who is called in to what seems just a typical floater case. With the victim being Asian, the bosses figure its better for Yu to investigate. But then it turns out the case is not about a jumper but a murder victim.
That little turn takes the readers into the Chinatown most tourists don't see. The gambling dens and strip clubs that are well hidden from the public eye. The floater in question seems to be an immigrant who just wants to make a good living and save his pay. The problems of course are his jobs are not what you would call growth industries. Where he is paid little and would rather just stick to his deliveries.
The book follows Yu as he comes up against the locals who keep their mouths shut. Other police who might be on the take from the local boss. Then of course the local big boss himself. This book is very much familiar territory to crime readers. While it moves by at a steady clip. There is really nothing new so to speak for a reader to be engaged by. Sure the idea of setting it in the bulk of Chinatown is a nice change. But then the regular tropes shine through that crime readers have come across. Really another Boss' son thinks he is the tough guy of the neighborhood. A Chinese boss who thinks his money can buy anyone off.
Nothing really new there. Still why the victim was killed off is a bit interesting but not really that surprising. This is material that we have read before. Then add to the fact the plot spells out exactly whats to come next. You might feel a bit let down. Especially since you will cruise through the story rather quickly.
Been there read that type of affair. Law & Order had more complex plots. —Bruce Grossman